Edit an influencer's default properties in your IRM.
The Influencity IRM lets you do more than just save influencer profiles – use this tool to add relevant information about your influencers and save their details in one place.
Where Can I Add Contact Details to an Influencer's Default Properties?
Open an influencer's page in your IRM. Here, on the left, you have the following fields:
First Name.
Last Name,
Email 1 (this is the public address associated with their profile, if they have one).
Email 2 (this where you can add alternative emails if they provide them).
Phone.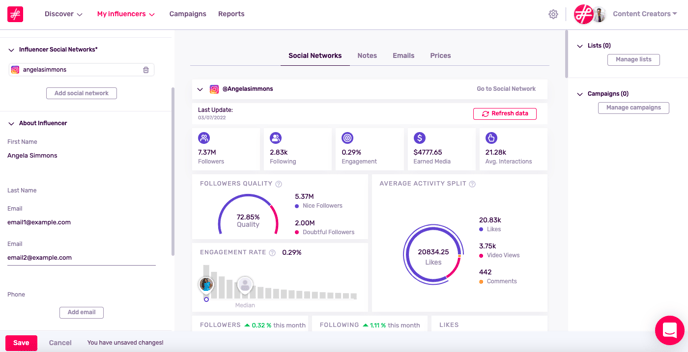 When you finish updating these fields, click Save.
Can I Add Contact Details?
Yes, a key feature of the Influencity IRM is the ability to add contact details to an influencer's profile. Forget about creating and updating static spreadsheets with contact information, in the IRM any information associated with this influencer can be saved directly to their profile.
For example, if you've contacted an influencer by email and they've provided you with a phone number, you can save this here so that all brand account users can view it.
Why Should I Add Contact Details?
This feature helps you track conversations when you send emails through Influencity. In addition, it ensures that all brand users have access to the same contact information.
In the future, users will be able to send automatic emails directly from the Influencity platform, so it's helpful to keep this information correct and up to date. Like any CRM, the Influencity IRM will be your first and primary point of contact with Influencers, so to maintain the best relationship it's important to save these details carefully.