Add multiple Instagram, TikTok, and YouTube profiles to an influencer in your IRM.
This article will describe how you can associate various social media profiles with one influencer in the Influencity Influencer Relationship Management (IRM) product. If you're still new to this product and want to find out more, check out this guide to your IRM home.
What is the Difference Between a Profile and an Influencer?

An influencer is an actual person, the one you would be collaborating with to promote your brand. A profile, on the other hand, is the account they create on social media. It's common for influencers to have multiple accounts across different channels, and for this reason it's helpful to bring them together in one place in your Influencity IRM.
Add a Social Media Profile
In order to add multiple profiles to an influencer, you'll first need to have at least one of their profiles already in your IRM. If you haven't added influencers yet, you can read more about it here.
From your IRM home page, find your influencer using the search bar on the left.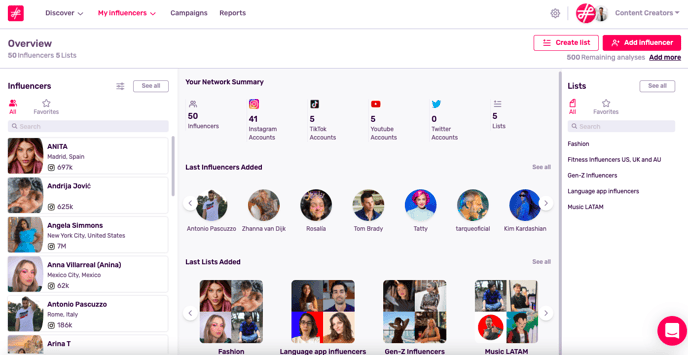 Click on their thumbnail to open their profile.
In the example below, we've already added a content creator to our IRM and have analyzed their Instagram profile. As we now want to see their TikTok metrics, we'd click Add social network, on the left, and then paste their TikTok profile URL or in the pop-up window.
Since we want to see how they perform on TikTok, we've left the box in the window checked. This means we can view their full data for the cost of 1 monthly analysis. If you don't need to see their metrics yet, but just want to associate this profile with this influencer, you can untick this box.
Click Add to continue.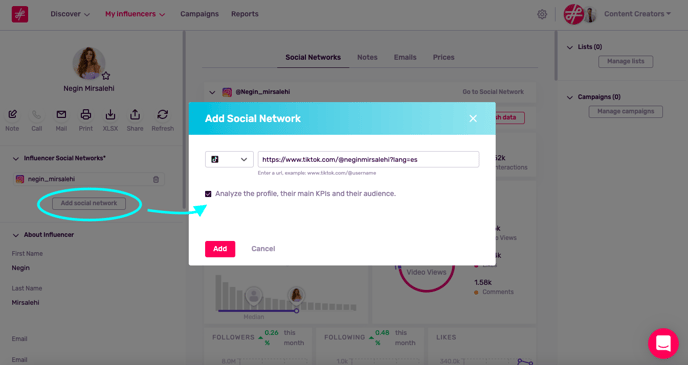 This new profile will now appear under the section Influencer Social Networks.
If you want to keep adding profiles, click Add social network.
Click Save at the bottom.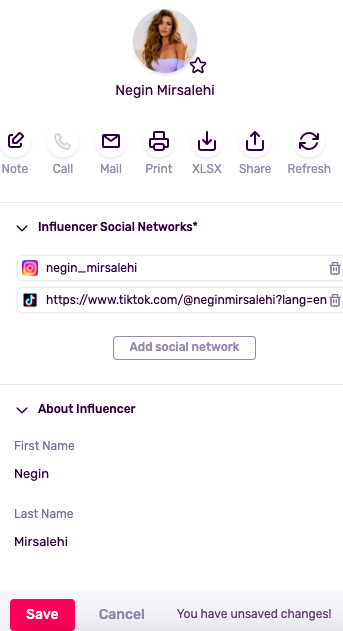 Troubleshooting
Have a question? Find your answers here or in our IRM FAQs.
My Influencer Has Multiple Instagram Accounts
If a content creator has multiple profiles on the same social network, you can add them by repeating the process described above. In the image below, for instance, you can see that we've added two Instagram pages and one TikTok profile to one influencer. These three profiles are now associated with her name and their metrics are displayed when you open her page in your IRM.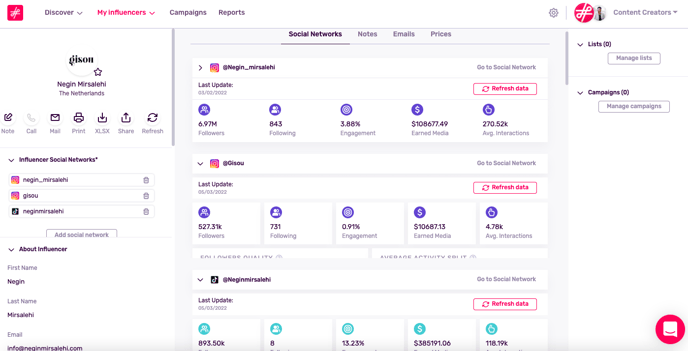 Can I Merge Two Existing Profiles?
No, unfortunately, it's not possible to merge two profiles that are already in your IRM.
To get around this, you'd have to open one of the profiles and add a social network to that influencer following the steps described above.
I Can't Add a YouTube Profile
Adding a YouTube channel can be tricky, as there are several types of URL and only the channel URL can be used to create a YouTube profile. For step-by-step instructions on how to find this URL, check out this troubleshooting guide.