Learn how to add more monthly results to your customized bundle.
Monthly results are used each time you run a search in the Discover product. Learn when monthly results are "charged" in this article.
Adding More Results to the Discover Product
By default, the Basic Discover product comes with 2,000 monthly results and the Pro comes with 3,000. To add more, click on your profile picture and then Products & billing. Go to See prices & plans and you will be directed to the pricing page.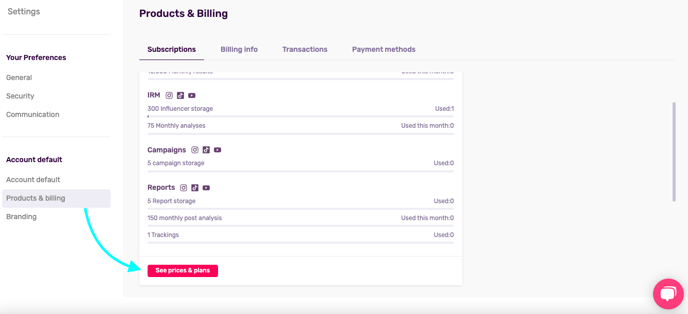 Go to Create your own bundle and scroll down to Discover.

Here, you can click and drag your cursor along the line to adjust the number of monthly results.
The first 3,000 results are included in the Pro plan by default. You can increase the number of results in increments of 1,000 starting at $5 per month. The more you buy, the better your rate.
Let's take a look at this example:
Say we want a total of 7,000 monthly results. The first 3,000 are included in the Pro plan, the next 3,000 are priced at $5 per 1,000, and the last thousand are priced at $3.5 per 1,000. As such our total can be calculated as:
$128 (the price of the basic package) + $15 ($5 x 3) + $3.5 ($3.5 x 1) = $146.50
To see the full price breakdown, click on More Details.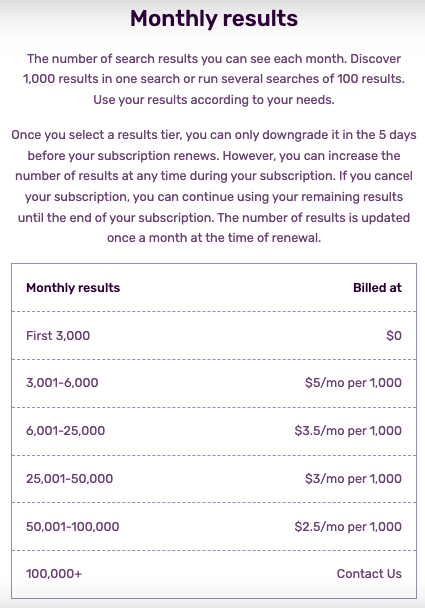 View your total on the right-hand side of your screen. If you are happy with your new price, continue with your purchase here.
Your new billing cycle will start at the time that you confirm your purchase. The following month, you will be charged the same unless you update your subscription.
Tip: The more products you add to your bundle, the more you save. Add the IRM & Data product to save 10%.
Can I Decrease the Number of Results in My Bundle?
Yes, you can decrease your monthly results by following the same steps above. The only difference is that you must downgrade your bundle within the last 5 days of your billing period.