Learn how to track influencer post metrics with Influencity .
As part of the Reports product, Influencity gives you 2 options to track the performance of your posts:
All analyses are done within an existing report. If you haven't created a report yet, you can do so by following these guidelines.
Tip: For more information on the terms and metrics we refer to in this article, check out the Influencity Glossary!
Automatic Analysis
Track all public data from Instagram (posts, videos, and carousels), YouTube, and TikTok with automatic analysis.
From your existing report, select Add publication on the right. This will open a pop-up window with the 2 options available. For automatic analysis, start by pasting the URL of any Instagram, TikTok, or YouTube post. Once you've added up to 20, click Add publication.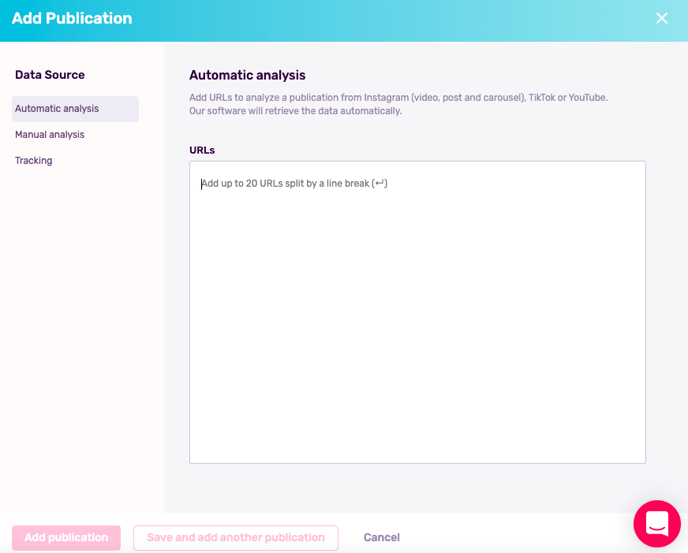 Caution: Make sure you are using the URL from a specific post, and not from an influencer's profile.
What Data Can I Track with Automatic Analysis?
Once you add and save your URLs, the public data from these posts will be automatically compiled into your report as aggregate data:
The number of likes and comments of all tracked posts.
The number of followers reached by all tracked posts.
The average interactions on all posts (likes, comments, etc.).
The average engagement rate (interactions divided by the number of followers x 100).
Your influencer's audience distribution such as top country, top city (Instagram only), top gender, and most popular age range.
Additional Post Insights for Automatic Analysis
If an influencer later shares additional post insights with you, you can add this information manually and it will be included in your dashboard overview.
What Influencers Can I Track with Automatic Analysis?
Track posts from influencers who meet the following criteria:
Have 1,000+ followers.
Have a public account.
Do not have content inappropriate for minors.
Manual Analysis
The advantage of Manual Analysis is that it allows you to record the performance of Instagram stories. It also lets you manually add data from Instagram posts, videos and carousels as well as publications on YouTube and TikTok. To get started, follow these steps:
Add a post URL and click Verify URL.
If you don't have the post URL, click Continue without URL and add the influencer's @handle or profile URL. Click Verify profile and then select the publication type.
The platform will then offer some fields that you can fill in to provide more data on this post.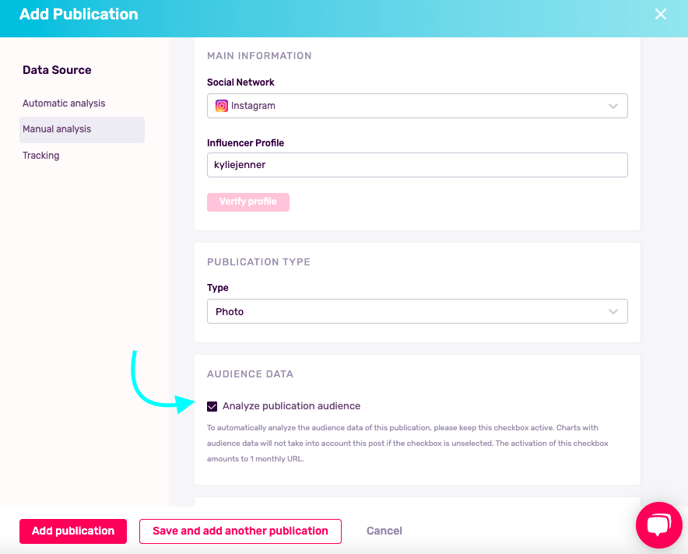 Add an image thumbnail to see the photo, video, story or carousel to be tracked.
Write a brief description and add the publication date.
Add the basic publication metrics and any additional metrics that your influencer sends to you.
Define your publication cost (this is a metric you would set with the influencer directly).
Once these fields are complete, click Add publication or Save and add another publication if there are more posts to include in this report.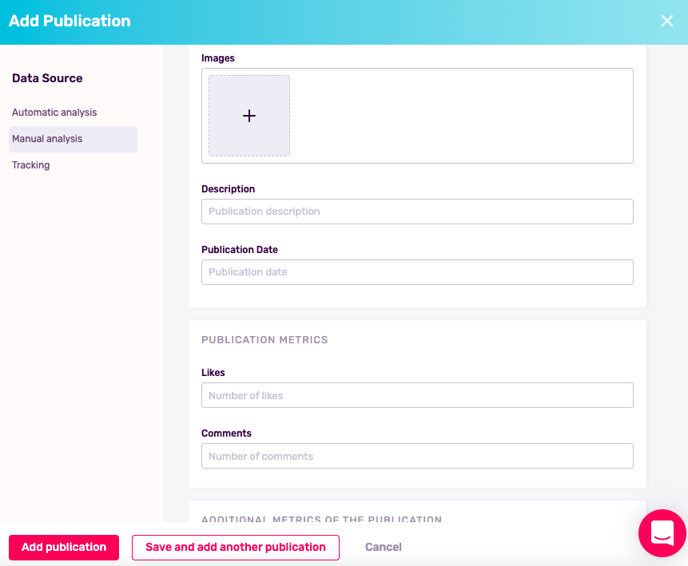 What Data Can I Track with Manual Analysis?
All public data (likes & comments).
Shares.
Saves.
Profile visits.
Clicks to webpage.
Reach.
Impressions.
Cost per Engagement (the total influencer cost divided by total engagement).
Cost per Mille (the total influencer cost divided by total impressions x 1000).
Cost per Reach (the total influencer cost divided by total reach).


Note: Cost per Engagement, Mille and Reach are based on the Publication Cost we enter for a post.
What Influencers Can I Track with Manual Analysis?
You can manually add the publication insights of any influencer with a public profile and this information will be included in your report. This includes influencers with less than 1,000 followers, however, in this case, audience data (country, gender, and age range) will not be recorded as there are not enough data points for it to be properly analyzed.
Warning: If you don't include audience data for all the profiles in your report, your report data may be inconsistent as the metrics displayed for audience data will not reflect the performance of all your influencers.