Add performance metrics by Manual Analysis or manually to a pre-existing report.
This article will cover the following:
For a full overview of how to measure post metrics in the Influencity Reports product, please refer to our article, How Can I Gather Information from Influencer Posts?
How to Gather Data with Manual Analysis
Manual Analysis allows you to add data from Instagram posts, videos, carousels, and stories as well as data from publications on TikTok and YouTube. To get started, follow these steps:
Open a report and click Add Publication.
Select Manual Analysis.
Add the post URL and click Verify URL.
If you don't have the post URL, click Continue without URL and add the influencer's @handle or profile URL. Click Verify profile and then select the publication type.

The platform will then offer some fields that you can fill in to provide more data on this post.
Choose if you want to Analyze publication audience. Leaving this box checked will automatically analyze the audience metrics of this publication (top country, gender, and age range) for the cost of 1 monthly post analysis.


Ask your influencer for their stats and add them to this window. Your influencer can either write you their stats or send you a screenshot of their insights page. If you're working with an Instagram influencer, for example, the insights page will look something like this.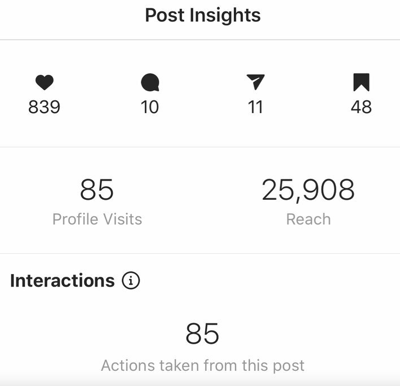 Add the publication cost. This is a price you determine with an influencer directly and will be used to determine the Cost per Engagement, Cost per Mille and Cost per Reach.
Click Add Publication and this data will be included in your report.
Tip: Take a look at the Influencity Glossary for information on the most common Influencer Marketing terms.
How to Add Private Post Metrics to a Pre-Existing Report
If you already added posts via Automatic Analysis and later your influencer shares their private post insights with you, you can add these metrics manually so that they will appear in your report. Some examples of private post insights are:
The number of times this post has been shared.
The number of times it has been saved.
Clicks to your webpage (if a link has been included).
Reach (unique users who have seen this post).
Impressions (the total number of times this post has been shown to users).
To add these data points, go to Publication data and click on the thumbnail to open the pop-up window.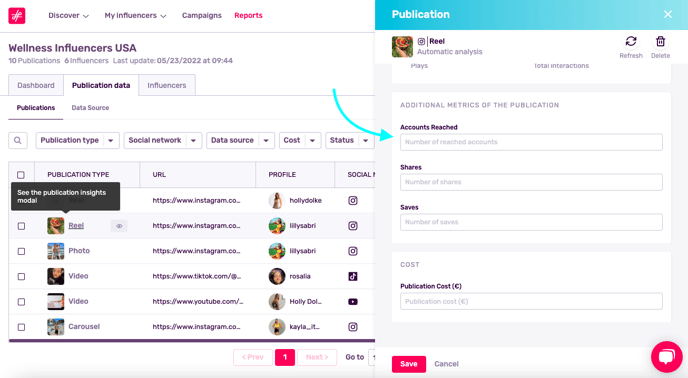 Are Monthly Post Analyses Deducted When I Add Data Manually?
As long as this box is left unticked, no monthly post analyses will be deducted from your account. By unticking this box, you are choosing not to analyze an influencer's audience data and will rely solely on the post insights shared by your influencer. Learn more about when monthly post analyses are deducted here.

Are Private Metrics Updated Automatically?
No, if you add private post insights manually, your data will not update automatically. To update your metrics, you'll need to ask your influencer to send a new screenshot of their insights page.