Measure the results of your campaigns by creating reports.
Gather aggregate data from your influencer marketing campaigns and see the performance of individual posts all in one place. If you are new to the Influencity Reports product, you can learn more about it in our Quick Guide.
How to Create an Influencity Report
Get started by following these steps:
Navigate to the Reports product by clicking this tab at the top of your screen.
Click Create report in the right-hand corner.
Write a name and a description to identify this file and click Create at the bottom of the pop-up window.
Your new report will now appear on the main Reports page. This page displays some basic information that you can customize by clicking on the Edit columns button on the right.
To open any file, just click on its name and you will be led to the Report Dashboard.
How to Add Publications to Your Report
Your newly created report will be empty. To get started, click Add publication on the top right or in the middle of your screen.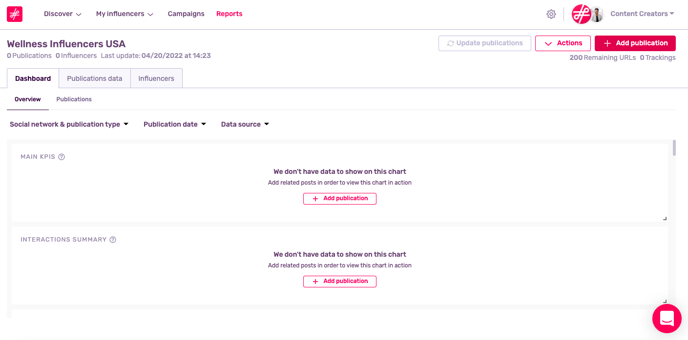 You'll then get a pop-up window with different options for gathering information from influencer posts.
For this example, we'll go with the Automatic analysis option. To proceed, copy and paste the URLs of the Instagram, TikTok, and YouTube posts you'd like to measure. In this case, we're adding two posts from a wellness influencer to see how they've performed. Add up to 20 post URLs and click Add publication.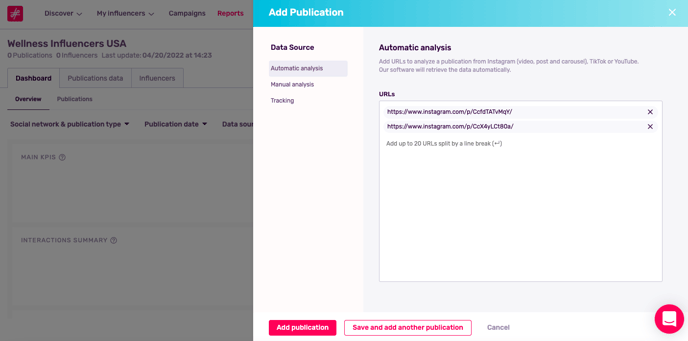 All of the public data from these posts will now be displayed as an aggregate in your Dashboard Overview.
In the image below, you'll see that some of the fields are not filled out. This is because this data is not public and cannot be gathered automatically. To include these metrics, you'll need to ask that your influencer share their post insights and then add them manually.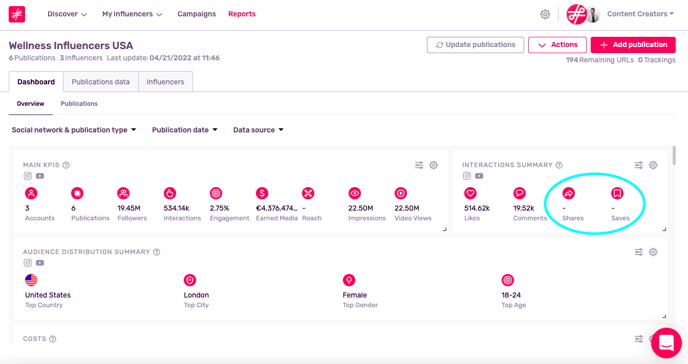 And that's it! You've now created your first Influencity Report. Keep reading to learn about the information displayed in your reports and how to customize your Reports Dashboard.
Working with Your Reports
Here are some commonly asked questions about creating and editing reports. For even more information, please check out our Reports FAQs.
How Do I Edit My Reports?
To change the name or description of this file, click on Actions and choose Report settings from the drop-down menu.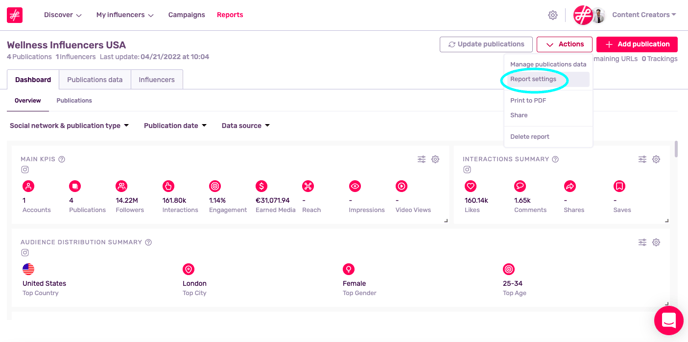 How Do I Delete a Publication?
Go to Actions and then click Manage publication data from the same drop-down menu. Tick the box next to the publications you wish to eliminate and then the Delete icon.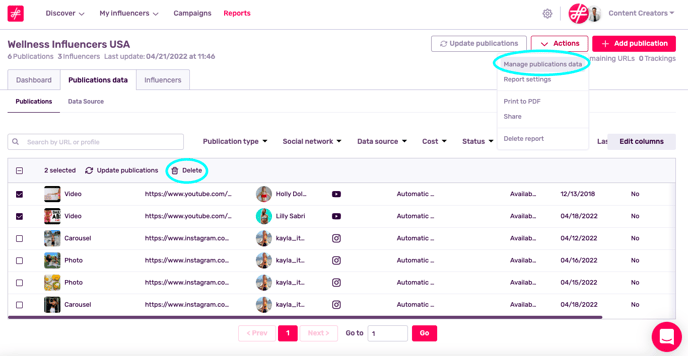 Can I Share My Reports?
Yes, check out these links on how to share a report via a URL link, download a report in PDF or export it to an Excel file.