Each Influencity plan allows you to save a certain number of influencers to your IRM
How Do I Know the Size of My Database?
New customers
If you're considering which Influencity product to purchase, go to the pricing page, scroll down to IRM & Data, and view the row Influencer storage.
The Basic plan allows you to store 100 influencers at one time, the Pro 600, and Business 2,000.

If you're interested in customizing your own bundle, you can adjust the number of stored influencers according to your needs.
Current customers
To see how many influencers you currently have saved and to consult your remaining storage, go to Products & Billing and scroll down to IRM.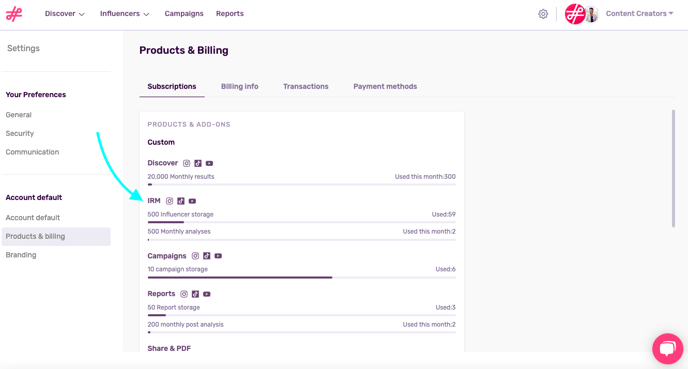 If you wish to upgrade to a plan with more storage, you can do so at any time from your account. See what product is best for you on our pricing page.
Tip: Not sure of the difference between influencer storage and monthly analyses in your IRM? Check out this article.