Learn how to differentiate between these 2 features of your IRM.
For more information about the Influencity IRM tool, check out this guide to your IRM home and these FAQs.
What is Influencer Storage?
Influencer storage is the number of influencers you are able to able to save to your IRM at the same time. For example, if you have a Professional subscription, you can save up to 400 influencers to your IRM and add personalized notes and pricing information to each one.
If you've reached your limit for saved influencers, you can delete some and add new ones.
Tip: Export your influencer's metrics before deleting them to save their information for your records.
Do Influencers with Multiple Profiles Count Towards Influencer Storage?
No, you can add 3 additional profiles to an existing influencer and all of their data will be recorded in their section of your IRM. For example, if you add Ariana Grande's Instagram account to your IRM, you can then add contact details and notes on your collaboration. If you later add her TikTok profile, this will appear here as well.
Basically, Ariana is the influencer whose contact will be stored. If she has multiple social media profiles, these can all be linked and associated with her contact in your IRM.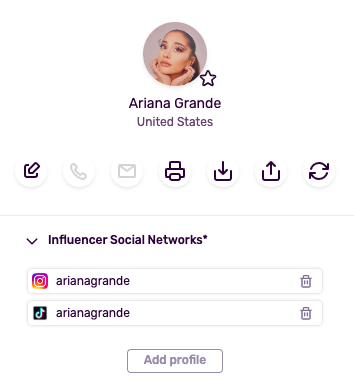 What is a Monthly Analysis?
An analysis is what you are "charged" when you:
Add an influencer to your IRM from Discover.
Create an influencer and check the box that says analyze influencer profile, main KPIs, and audience.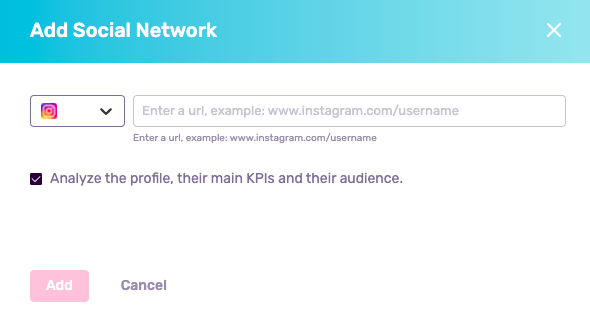 A Professional subscription, for example, includes 125 analyses each month. If you need more, you can add them on a one-off basis.
For more information on monthly analyses, check out this article.