Found the perfect influencer? Use the Lookalike filter to discover more content creators that perfectly complement your brand.
This article will go into detail about how to use the Lookalike filter to find the right influencers for your campaign. If you want to know more about how the Lookalike metric works, please refer to our article, What is the Audience Lookalike Metric and What Is This For?
How the Lookalike Filter Works
Use the Lookalike filter to:
Find profiles with similar content and interests.
Find profiles with similar follower demographics (regardless of the content they post).
Either way, this filter is a great tool to find influencers that help optimize your marketing strategy.
Filter for lookalikes by going to Search Influencers from Discover. Under the Lookalikes section, there are two fields: one with a pink icon and one with a blue one. Find lookalikes by typing an influencer's handle or by pasting the URL from their social media homepage.

Warning: Check out this article for tips on how to find the right YouTube URL.
How to Filter for Profile Lookalikes
Here's an example of how this filter can be used: imagine you love Kendall Jenner's content, but a collaboration with her is out of your budget or you'd prefer to target a smaller crowd with micro-influencers. In this case, you can type her handle into the Influencer Lookalike field on the left and adjust the follower range to find similar influencers at a more affordable cost or with a more specific reach.
In the sample search below, we've specified our search to find influencers on Instagram who have content similar to Kendall's, but with between 1,000-5,000 followers: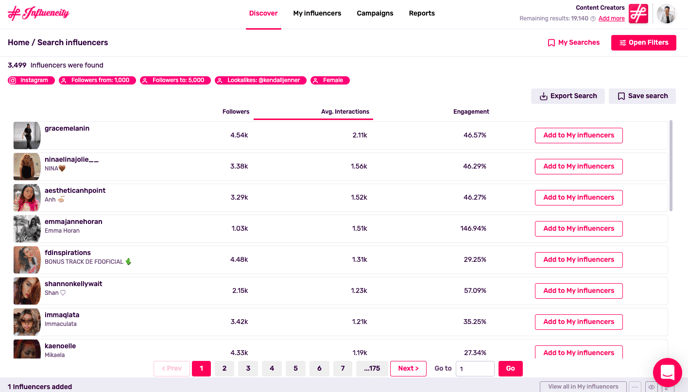 How to Filter for Audience Lookalikes
If you want to find followers with similar demographics, you can use the Audience Lookalike filter on the right. For example, let's say you're working with a foodie influencer who has viewers and followers who fit your target audience. However, you're having trouble finding other foodie influencers to work with on your campaign. The audience lookalike filter will help you find other content creators with a similar audience, even if these influencers are posting about something different, like fitness or lifestyle. In cases when the content topic is not critical to you, this is a great tool to connect with your key demographic in different ways.
Troubleshooting
Here are some answers to your most common questions regarding Influencity Lookalikes.
Can I Search for Influencer Lookalikes on TikTok?
No, at the moment you can only search for audience lookalikes on TikTok. However, once you've added a content creator to your IRM, you can open their profile, scroll down, and see a list of 30 influencer and audience lookalikes.
My Influencer Doesn't Appear in the Search Box
If your influencer's name doesn't pop up in the search box, you can copy and paste their profile URL into the box directly. If you still can't find their data, a way around this is to create a profile so that our system recognizes their username.
My Influencer Doesn't Have Any Lookalike Results
This filter works best with influencers who have a general theme to their content, whether it's #fashion, #food, #travel, or another trending topic. If an influencer doesn't fit clearly into a category, it might be difficult to find lookalikes that reflect their content.