Learn how to target your core audience using this metric in your IRM.
When you analyze a profile in your IRM, you are provided with a list of 30 audience lookalikes. Keep reading to find out what this means and how to use this metric in your influencer marketing campaigns.
What Is the Audience Lookalike Metric?
This metric shows you a list of profiles that reach followers with similar demographics, such as age, gender, ethnicity, language, country, and city (Instagram only). Two influencers may have different content (ex: a fashion influencer and a food blogger) but attract the same type of audience.
For example, @arianagrande and @therock post very different content, however, since many of their followers are young, English-speaking, and located in the United States, @therock is included under Ariana's Audience Lookalikes. Although the exact users are not the same, their demographics are similar.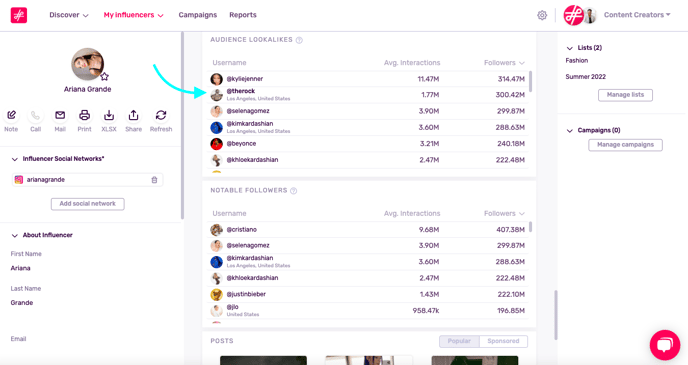 How Do I Use the Audience Lookalike Metric?
Let's say you're working with a travel influencer whose followers fit your target audience and have responded well to your brand in the past. However, maybe you're having trouble finding other travel influencers who match your budget and the needs of your campaign, or perhaps you just want to explore new influencers in different industries.
This metric provides a list of 30 content creators with similar follower demographics – that is, users of the same age and gender who are likely to respond similarly to your brand. Even if these influencers are posting about something different, like food or lifestyle, they can still help your message arrive at the right people.
In cases when the content topic is not critical to you, this is a great tool to connect with your key demographic in different ways.
Where Can I Find this Metric?
To view this metric, you must first analyze a profile and add it to your IRM. Find this profile from the Profiles page by searching its name in the search bar on the left. Next, open the profile and scroll down to Audience Lookalikes. Profiles will be displayed according to their number of followers.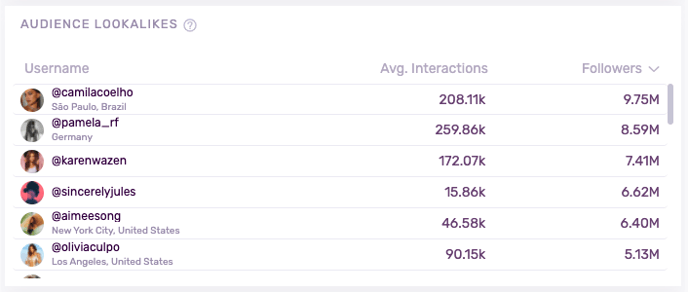 Common Questions
Can I Use this Metric for Influencers on TikTok and YouTube?
Yes, this metric is available for influencers on Instagram, TikTok, and YouTube.
Do Profiles in Audience Lookalikes Have the Same Followers?
No, the influencers included in this metric have followers with similar demographics – that is, age, gender, language, ethnicity, and country, however, the actual followers won't necessarily be the same.
Tip: To see if two influencers have the same followers add them to a list to view their percentage of Follower Overlap.
What is the Difference Between the Audience Lookalike Filter and Metric?
The filter is used when running searches in Discover. Your results will then include all the profiles that have similar follower demographics. The metric is shown to you automatically when you analyze a profile, regardless of if you used this filter in your search.
How Does Influencity Determine this Metric?
We use image recognition to "view" the content of a follower's profile to determine their gender, approximate age, and ethnicity. For the location, we use Natural Language Processing (NLP) to "read" all #hashtags and free text in a user's profile to determine the country and city where they are based. All data points are weighted for the highest precision possible. Read more about our technology here.