Update and add email contacts to an influencer's page.
A feature of the Influencity IRM is the ability to include contact information, notes, and email exchanges in order to keep all of an influencer's information on one easily accessible page.
If an influencer has provided you with an alternate email address or private contact information, keep reading to learn how to save it to their profile in your IRM.
How Do I Add Multiple Email Addresses to an Influencer?
Open their page in your IRM.
If this influencer has a public email address associated with their profile, it will be included here automatically.
Click Add email to include another one.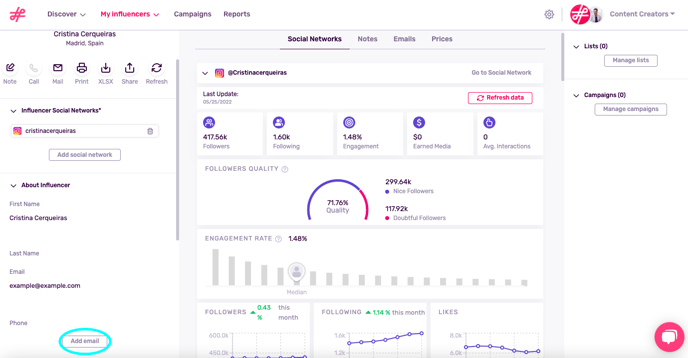 This alternate address will now be visible to all brand users on your account.
Repeat this process multiple times, if necessary.
Note: All the information you upload into your IRM is private and never shared with anyone outside of your organization.