Manage all communication in one place by connecting your brand email to the Influencity platform.
Note: this article describes how to integrate your existing email address to enable 1-1 communication with influencers within the IRM. To learn how to configure bulk emails, click here.
What Email Address Can Be Integrated With Influencity?
The basic version (without 2-factor authentication) of any of the below email providers CAN be integrated into the Influencity platform.
- @outlook.com
- @hotmail.com
- @live.com
- @msn.com
- @outlook.com.mx
- @outlook.co.uk
- @outlook.de
Any cloud-based providers, that is, email delivery and storage methods hosted and maintained by an outside provider, cannot be integrated. This includes: @gmail, @office365.com, @outlook.office365.com, etc.
How Can I Integrate My Email With Influencity?
You can integrate your email to the Influencity platform in 2 ways:
Having trouble? Jump right to our Troubleshooting section.
Link Your Email from Accounts & Settings
Click on your profile thumbnail and select Profile & Preferences from the drop-down list.
Click on Communication.
Select Connect your Inbox.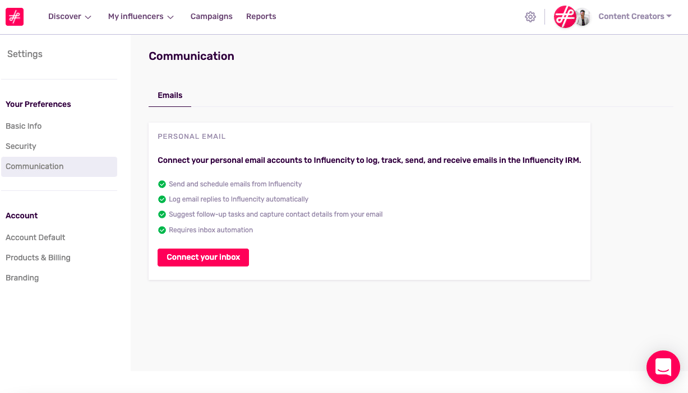 Select the email account you wish to connect.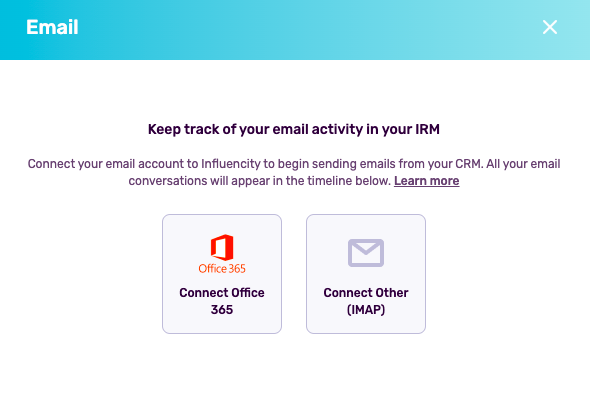 Each service provider has its own privacy policy that you'll need to read through. If you're using Office 365, keep reading. If using IMAP, please refer to the links below.
If you're connecting an Office 365 account, click Accept & Connect.
You'll then get a pop-up asking you to confirm that you have enabled Influencity to integrate your email account. Click Yes, set up my account.
Finally, enter your email address and password and click Connect Account.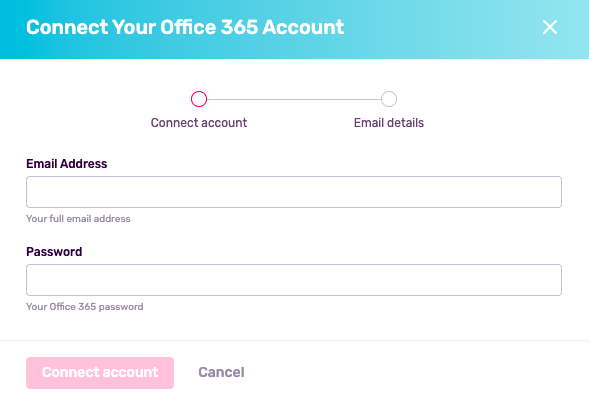 Link Your Email from an Influencer's profile in your IRM
The second way to integrate your email is from the IRM product, in the Influencers tab.
Open the profile of an influencer who has at least 1 linked email.
On the left, under their profile picture, you'll see a Mail

icon. Click here and then

Compose

. This will open a pop-up with the option to connect your inbox.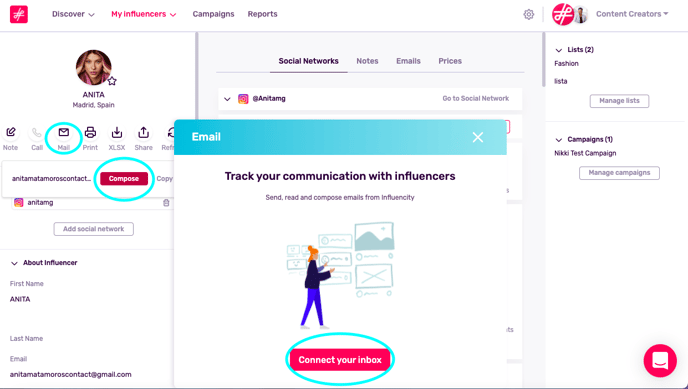 From here, just follow the instructions listed above.
Troubleshooting
Let us answer some of your questions here.
Can I Integrate My Email if I Have 2-Factor Authentication?
No, unfortunately you cannot integrate your email if you have 2-factor authentication enabled. In order to add your account, please deactivate this feature from your email settings.
I Get an Authentication Error when I Connect my Email.
This could be due to one of these reasons:
Use of OAuth 2.0 in your email provider. Your provider may have disabled the use of basic authentication and only allow the use of OAuth 2.0, as is the case with Exchange Online (more information here). Unfortunately, you cannot integrate your email if your provider only supports OAuth 2.0.
SmtpClientAuthentication disabled for the Tenant. In order to integrate your email, SmtpClientAuthentication must be enabled at the Organization (Tenant) level. This can be done from the Microsoft 365 admin center (access portal here). or via commands with Exchange Online PowerShell (link).For more information, see this page.
Is My Email Information Private?
If you integrate your email to the Influencity platform, all messages exchanged with this influencer will be visible to other authorized brand users. This is a common feature of any Customer Relationship Management (CRM) tool and helps keep all users up to date on communications.
If you export profile data or share an influencer's metrics via URL, no email communication will be included in this data. Should you choose to cancel your subscription or delete your account, all email history on the Influencity platform will be erased.
Any influencer who you contact will only see your email address and signature. They will not see that you are contacting them from the Influencity platform.
Tip: Learn how to add and remove brand users here.
My Sign-in Attempt Was Blocked
This could be due to your email settings, as many providers will initially block log-in attempts from unknown platforms. To get around this, check your email account for recent security alerts. You may have to open the security alert message and approve the log-in attempt from there.
My Influencer Doesn't Have an Email Address
Some influencers choose not to have a public email address. In this case, you can:
Message them through the application directly (i.e., a direct message on Instagram).
Search for their contact email on other social networking sites.
If an influencer later shares their email with you, you can add it to your IRM contact list and message them through the Influencity platform directly. To do this, open an influencer's page in your IRM and click Add email in the left-hand column.

If you wish to avoid these profiles, read our tips on how to find influencers with an email address.
Tip: Your IRM can be a one-stop shop for all communication and negotiation with your influencers. Click here to learn how to save influencer phone numbers and prices in the IRM product.
Can I Change or Remove My Email Address?
Yes, you can change or remove your email address by going back to Profile & Preferences and Communication. Here, select the option remove inbox and confirm your choice in the pop-up window. If you want to add a new address, just repeat the process above.
Where Can I See My Sent Emails?
When you integrate your email, all messages will go to your standard inbox as normal. In addition, you can see the specific emails that you've exchanged with an influencer when you open their page in your IRM. As you can see in the sample correspondence below, all emails, notes, and price information can be found along the top of an influencer's page.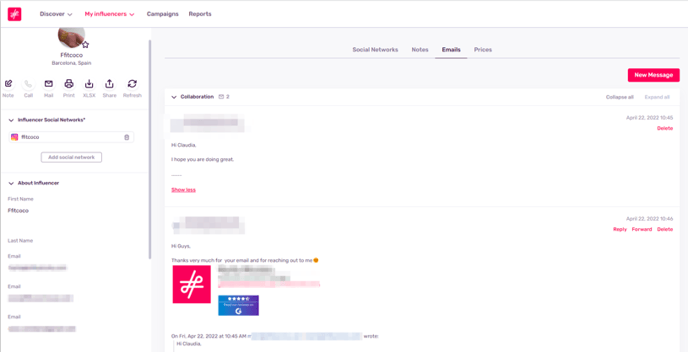 My Email Won't Send
You may have exceeded the attachment limit. You can send up to 30 attachments per email or up to 10Mb. If either of these 2 limits is exceeded, an error message will appear.
Can I Integrate the Same Email I Use to Log-in?
Yes, you can use the same email. Please note, however, that while you can change your integrated email on your own by following the steps above, you can only change your user email by contacting support@influencity.com.