Build your own brand ambassador program and find new, loyal influencers who are interested in your brand.
What Are Landing Pages?
In digital marketing, a landing page is a standalone web page created for a specific purpose. Unlike a normal web page, which serves multiple purposes and encourages exploration, an LP is where a visitor is asked to complete a specific call to action (or CTA, for short).
Influencity Landing Pages offer the possibility to create a specific page where influencers who are interested in collaborating with your brand can register, get verified, and become part of your Influencity IRM database.
Instead of creating a full page from scratch and manually adding registered influencers into the IRM for analysis, we help you set up a landing page in just a few steps directly from the Influencity platform. Once your page is set up and running, all the influencers who've registered through the LP will appear in this section of your IRM where you can analyze them, contact them, and include them in your lists and campaigns.
How Do I Create a Landing Page?
From the Influencers tab, click Recruitment.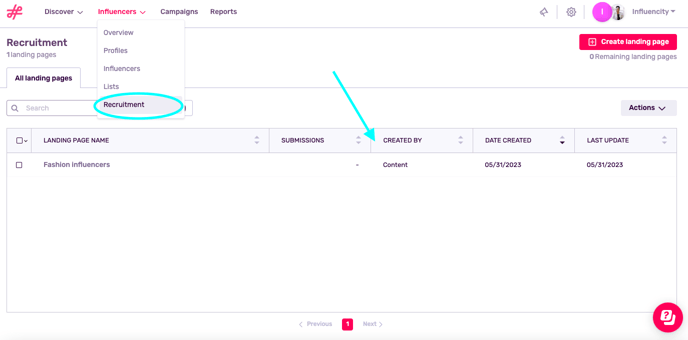 This table is where all your different landing pages will be displayed. As you can see, any existing pages will be displayed along with the number of influencers who have submitted the registration form, the name of your team member who created the page, and the dates that this page was created and updated.
Note: At the moment, clients will be able to create 1 landing page per account.
To get started, click Create landing page.
The first step will be to configure your branding. You can personalize your page by adding your company logo and adjusting the color of the buttons. To get right to it, click Maybe later.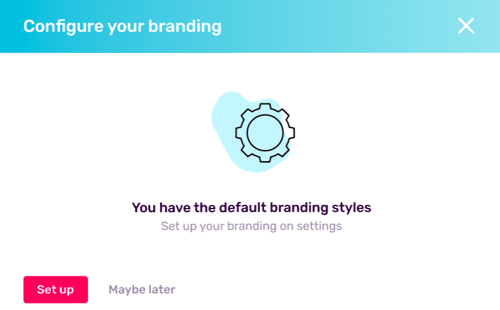 Next, you'll need to fill in a form with some mandatory fields.
Create a name to easily identify this page (only your team members will see this name)
Select the language in which your form will be displayed. Choose from English, Spanish, French, German, Italian, and Portuguese.
Add your brand name to the Default URL. The URL will look something like this:
recruit.influencity.com/brandlandingname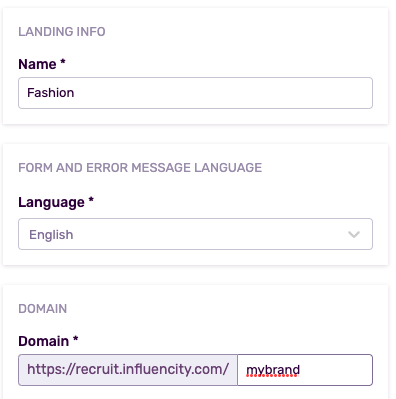 You'll need to specify the social networks that will be offered as options on the form. All Influencers must register with an Instagram account in order to be verified. You can also add any of the below social networks according to the needs of your campaign.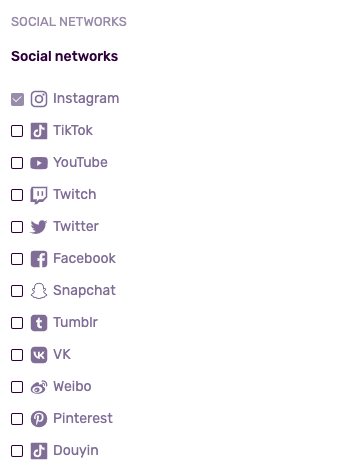 Copy and paste your company's privacy policy.
Choose between an auto-generated thank you message or paste the page where influencers will be redirected to.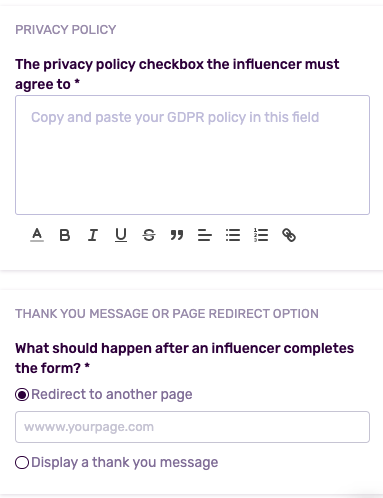 Click Save and Publish – your Landing Page is now live!
Warning: You must fill in all the fields in the form in order to publish your landing.
Working with Landing Pages
Edit and Delete Landings
To edit and delete existing landings, go to Recruitment and hover over the landing page name. Click the pencil icon which gives you the option to preview your page, edit it, or delete it entirely.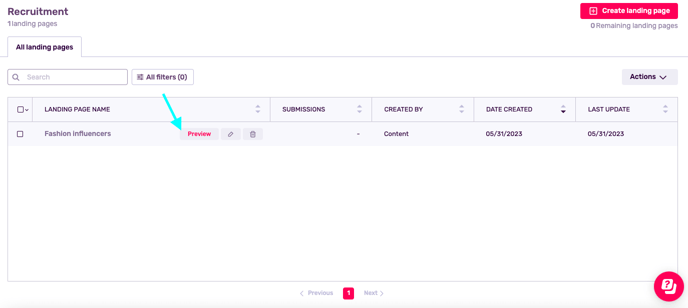 More Questions About Landing Pages
How Many Landing Pages Can I Create?
At the moment, all clients can create 1 landing page. If you wish to create more, please contact us.
How Do I Know Which Influencers Registered Through My Landing Page?
All registered influencers will automatically appear on the My Influencers page. To see them, consult the Original source column, which has 3 options.
Landing page - influencers who registered themselves.
Discover - the profiles you found conducting searches in discover and then associated with influencers.
Manual entry - the influencers you added to your database directly by selecting Add influencers.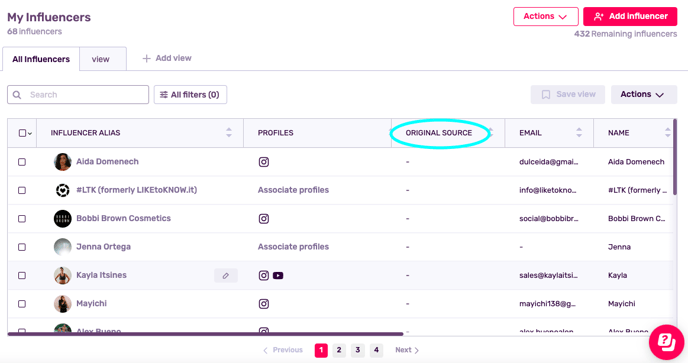 Will Influencers be Analyzed Automatically?
No, influencers who have registered through the landing will not be analyzed automatically. To analyze them, go to the My Influencers page (seen above) and open the tab: Obtained by landing.
Click on an influencer's alias to open their page. All the social media profiles that they registered with will be automatically associated, but not analyzed. To do so, click Analyze profile.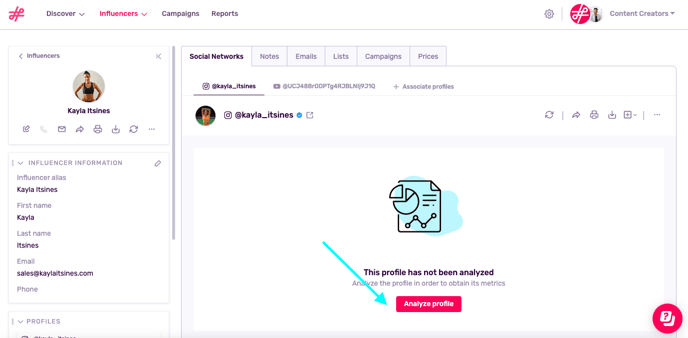 Where Can My Landing Page Be Displayed?
This stand-alone page can be incorporated into your existing webpage.
Can Influencers Register from their Mobile?
Yes, your landing page can be used on desktop and mobile.
What Information is Gathered from Influencers?
Influencers are asked to give their first name, last name, email, and phone number. They will also be asked to write their social media username (ex. their Instagram @handle) and accept the data privacy policy agreement.
How Are Influencers Verified?
Influencers are asked to verify the existence of their Instagram account by opening a specific page and pasting a code that is provided after registration. Once verified, they will appear in your IRM.
For more information on this, check out this article.
Note: The validation process may take up to 7 hours.
Next Steps
Creating a landing page that lets influencers come to you is a popular strategy to find content creators who are familiar with your brand and fans of your products. If their KPIs are solid, these creators could be good candidates for brand ambassadorship – a term used to describe long-term influencer marketing collaborations where the influencer represents your brand in real-life as well as along different consumer touch points. Learn more about this type of collaboration in this guide.