Learn how to work with multiple Influencity brand accounts.
Why Is it Important to Have Different Brand Accounts?
The advantage of having multiple brand accounts is that you can view and work with information for each client or brand separately. For example, a large multinational company may have many different brands within it. It's important to keep these separate, as each one may deal with a different product, have different marketing strategies, and require different influencer databases.
We're now working to provide our clients with tracking tools that will be unique for each brand. This way, if you want to measure sales in your e-commerce, you can do so from that specific brand account.
How Can I Add a New Brand Account?
Your subscription has one brand account. If you wish to add another, you will need to purchase an additional subscription following these steps:
Purchase a second subscription from the Influencity Pricing Page and register using another email and login. Your two subscriptions initially would not be linked and you would have one account and login for one brand, and one for the other. If you'd like more information on the best options, plans, and bundles for your company, please contact sales@influencity.com.
If you wish to see both brands from one account, please contact support@influencity.com and our team can help you configure this.
How Can I Link New Users to a New Brand Account?
If you wish to add a new user to a certain account, you can do so by going to Profile & preferences and scrolling down to Users. For step-by-step guidelines, check out this article.
How Can I Change Between Accounts?
If you have access to multiple brands within your account, you can change between them by clicking on your profile picture, scrolling down to change or manage your account, and clicking the one you'd like to view: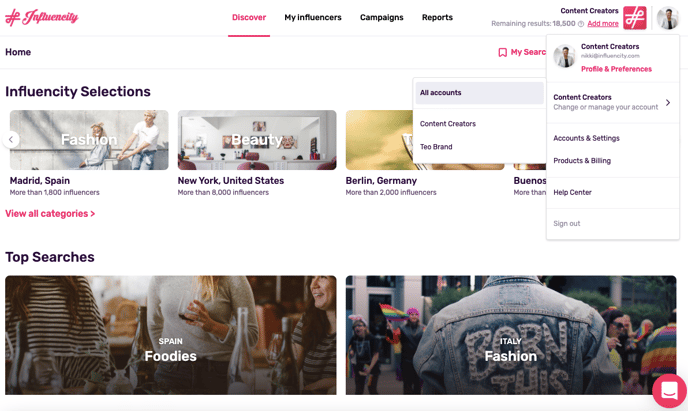 When you change accounts, your brand name and logo in the upper right corner will also change. This is how you know which one you're currently working in.
Caution: Make sure you're working in the correct brand account by double-checking the name and logo in the top corner. This is important as each one has its own limits and features.
Can I Delete a Brand Account?
Yes, it's possible to delete one and maintain the others. To do this, please email us at support@influencity.com specifying the name of the brand you'd like to delete.