Our YouTube filters work like a funnel: we start with general filters which become more specific as you scroll through.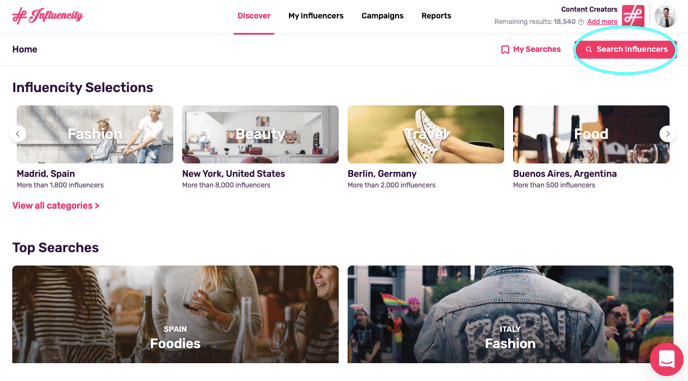 Click Search Influencers in the top right-hand corner. Next, select YouTube from the drop-down menu at the top.

Filtering by Views and Interactions
The first six filters allow you to filter YouTube influencers by their reach and levels of growth. Here you can specify:
The number of followers.
The percentage of follower growth over the last 6 months.
The number of channel views.
The percentage of viewer growth over the last 6 months,
The average number of interactions.
Engagement.


Engagement Rate:

The most useful way of measuring interactions. Simply take the number of average interactions, divide it by the number of followers, and multiply by 100. Keep in mind that YouTube is less interactive than other social media platforms, and engagement varies depending on the location and type of channel.
Location
Filter for influencers in specific locations. For example, if you're interested in YouTubers from Spanish-speaking countries, you can select multiple locations and your results will match at least one of the filters set.
Filtering Your Audience by Location
It's also possible to filter influencers by the location of their audience. Once you've selected a country, you'll be given the option to add a percentage. If you're marketing a product in the United States, for instance, you can choose to have at least 20% of a YouTuber's subscribers coming from this country.

Gender
Choose the gender of both your influencers and their audience here. Our AI and Machine Learning allows you to filter by:
Any
Male
Female
Male or Female
Gender Neutral
Age
Filter your YouTube influencers and their followers by their ages here. This is helpful if you'd like to target campaigns specifically at Generation Z, Millennials, etc.
Language
Search for YouTube channels based on the language spoken by the YouTuber and their audience.
Tip: This feature is great for identifying expats. For example, French speakers in the UK.
Lookalikes
If there's an influencer you already know of, you can find channels with similar content by typing the name of their channel here. If the name doesn't appear in the autofill, you can copy and paste the YouTuber's home page into this field directly.
This filter is helpful if there's a particular influencer that you like, but may not be able to work with due to their location, availability, etc. Audience lookalikes are helpful if you want to target a specific YouTuber's follower demographics, regardless of the channel's content. See here for more tips on how to use the Lookalike filter and incorporate it into your marketing strategy.
Hashtags
Sort influencers by #hashtags here. Start typing and autofill will offer some suggestions for top-trending hashtags.
Keywords
Identify influencers by the keywords they use to describe themselves in their video descriptions and comments.
Last Posts
Find the most active influencers by choosing the time since their last post.
More Filters
Want to limit your search to only verified YouTube channels? You can do this here by selecting Only verified accounts. If you want to find influencers with an email address, click on Has email.
How Can I See My Results?
You can see the total number of results at the bottom of the page. The more filters you set, the smaller your results pool will be. If you see that some of the fields don't apply, feel free to leave them blank. If you wish to start from scratch, you can clear the filter. When you're finished, click Show results and start finding the perfect YouTube influencers for your brand.

Loved your search results? You can export your results and share them with your clients and colleagues.