Let us resolve your doubts about filters here.
How to Find Influencers with an Email Address or Phone Number
When setting filters in Discover, scroll down to More Filters and select the boxes Has Email or Has phone number.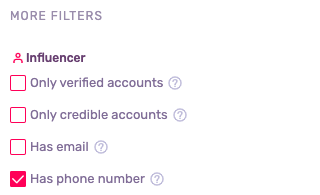 Why Can't I Find a Company in the Brand Affinity Filter?
Our technology can recognize over 3,000 brands worldwide. If your brand does not appear in our search, it's possible that we haven't included it yet. If you'd like to add a brand in our filters, please contact us at support@influencity.com. This process may take a few weeks, and we will let you know when it's complete.
Keep in mind that only relevant brands can be included in this filter. If their following is too small, it will not return any helpful results.
Why Can't I Find a Country or City in the Location Filter?
Our platform can filter for countries all over the world. If a particular location doesn't appear in this field, it may be because influencers aren't tagging it or are tagging it by a different name. If you're hoping to target a specific place, it may help to do some background research to find the best term to use in this filter.
Our platform allows you to filter by country, city and US state on Instagram. Other social media networks are filtered by country only.
If you'd like to include a specific location that doesn't appear in our filters, please contact our support team at support@influencity.com.
Caution: Locations are sorted by their name in English, so be sure to search for "Rome" and not "Roma."
What Follower Range Should I Use?
This depends on the type of influencer you're interested in working with and the type of campaign you're hoping to organize. Here's an approximate breakdown of the different types of influencers.
| | | | |
| --- | --- | --- | --- |
| Nano-influencers | Micro-influencers | Macro-influencers | Mega-influencers |
| 1k - 10k | 10k - 100k | 100k - 1m | 1m+ |
Note: This information might vary depending on your location and market.
How Many Searches Can I Run?
You can run unlimited searches, regardless of your subscription. Keep in mind, however, that your monthly results (i.e., the profiles displayed to you) depend on the plan you've purchased. Check out these links to read more about monthly results and how to add more results to your account.
Can I Save My Searches?
Yes, there are two ways to save your influencer search data:
Export your search into an Excel spreadsheet that can be shared outside the platform.
Save your search results within Influencity. If you save a search, you can return to it within 3 days without using additional monthly results.
Both of these options can be found on the right side of your screen. To return to your saved results, go to the Discover drop-down menu and select My Searches.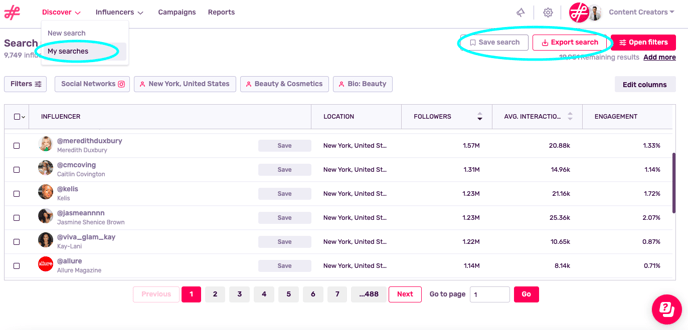 Can I Export Emails from My Influencer Search?
No, unfortunately, influencer emails don't appear when you export a search from the Discover product. When you export from Discover, you download the same information that appears in your search. This includes the default columns: Number of Followers, Average Interactions and Engagement, as well as any additional filters you may have applied.
In the image above, for example, an extra column appears for the profile location. This is because we ran a search for profiles based in New York, USA.
To see an influencer's email address, you will need to add them to your IRM.
Can I Mark Profiles So They Don't Appear in My Search?
No, at this time you cannot eliminate specific influencers from your search results. However, there are ways to adjust your filters to prevent certain profiles from showing up:
We also have articles that go into detail on how to use our Instagram, YouTube and TikTok filters.
Why Can't I Analyze a Profile from the Discover Product?
There are 4 reasons why you may not be able to analyze an influencer profile from Discover:
Your paid subscription is only for the Discover product - If you've purchased a bundle only for Discover, then you can view a certain amount of monthly results, but you don't have the ability to analyze influencer profiles. In this case, you can see the number of followers, average interactions, engagement and other filters applied, but don't have access to the full metrics, such as Follower Quality or Average Activity Split.
You may have used all your monthly analyses - At the start of the next pay cycle, your number of analyses will automatically renew. Read how to add more on a one-off basis, or upgrade to a different paid subscription.
This may be a new profile - Our database automatically updates every month and a half. If this profile is new, its metrics might not yet be processed. Try again some time later to see if this information appears. If we're not able to provide you with influencer metrics, you won't be charged for the analysis.
This profile does not meet Influencity criteria - We can only analyze influencers who a.) Have over 1,000 followers, B.) Have a public profile, C.) Do not have content prohibited for those under 18. If an influencer has lost followers since the last time we updated our database, it's possible that they still appear in Discover, but cannot be analyzed as they no longer meet our criteria.
How Can I Search for a Specific Influencer?
Try searching for an existing profile using the Bio filter. The results page will then show all the influencers who have that exact name in their Instagram bio (this is the area right below their name on their Instagram page).

Why Can't I Find an Influencer?
In order to show up in search results or for a profile to be created or analyzed, an influencer must meet these criteria:
Have over 1,000 followers.
Have a public profile.
Not have content prohibited for those under 18.
If one of these criteria is not met, unfortunately, this influencer will not appear in our database.
What's the Difference Between Average Interactions and Engagement?
Average interactions are the number of likes and comments that an influencer has received on their last 12 social media posts. The engagement rate is this number divided by the influencer's total number of followers and multiplied by 100.
The engagement rate is useful because it puts the number of interactions into context by taking into account the number of followers that are viewing and interacting with this content.
What's the Difference Between Partnerships and Brand Affinity?
Partnerships refer to only paid collaborations between companies and influencers. This includes posts with #ad, #sponsored, or any official paid sponsorship ads. Brand affinity, on the other hand, refers to brands that appear in an influencer's content. For example, if a lifestyle influencer takes a picture of their Rolex watch with the Rolex logo clearly visible, this company would be included in their list brand affinity, regardless of if it's a professional, paid collaboration.
Why Do I See the Same Results When Running Different Searches?
This has to do with the filters applied and the way in which they overlap. For example, if you first run a search with Shopping & Retail in the Interest filter and then run a separate search with the filter Travel, Tourism & Aviation, it's possible that you get some of the same results as many influencers post both types of content.
Another time this might happen is when you filter by the number of followers. If you do an initial search for an audience of above 10,000, and then do another one with the filter range set to 15,000 - 20,000, then many profiles will correctly correspond to both searches.
To ensure that you're always finding new and different influencers, we recommend trying a variety of different filters.
Why Do I Still Get Influencers When I Filter for Businesses?
Initially, business accounts were the only way for content creators to gather post insights and profile stats. In addition, business accounts let them add product links and tags. Later, when the Creator account was introduced, many changed account types, but not all. As such, it's possible for influencers to appear when you filter for Business accounts.