Learn how to share profile, influencer, and list data outside of your organization.
This article will show you how to:
Note: To learn how to export IRM data to XLSX, please see this article.
Sharing and Downloading Profile Metrics
Go to Profiles and click on the profile @handle to see their metrics in a side window.
Click the arrow icon to share these metrics via a URL link, click the printer icon to print them or download them as a PDF.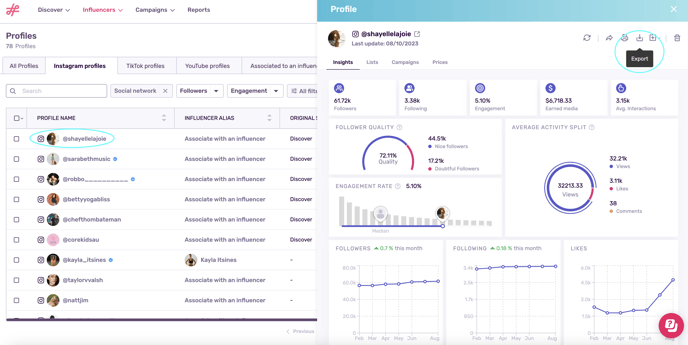 Sharing via URL Links
If you click share, you will get a pop-up window with a shareable URL that will be valid for 30 days.
Anyone with the link will be able to view this profile's KPIs.
If you refresh this profile's data, your viewers will also see the new stats.

Print or PDF
A window will open giving you the option to print, if you have a printer connected, or save this file as a PDF.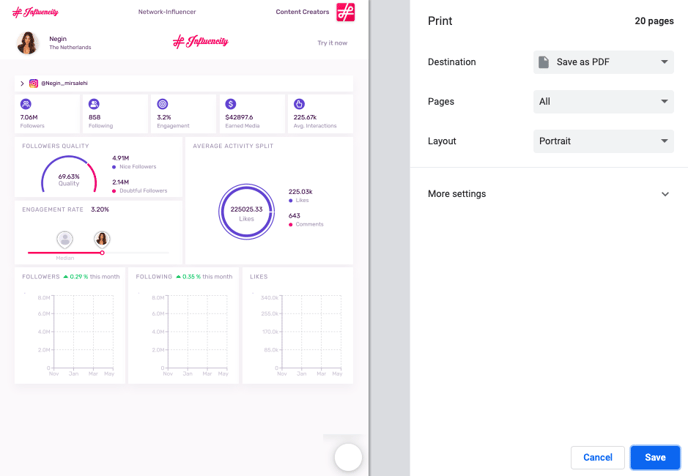 What Information Appears When I Share a Profile via PDF or URL?
All the profile performance metrics will be included in the PDF view.
This information will NOT be included:
Prices
An influencer's lists
Email exchanges
Notes
Sharing and Downloading Influencer Data
Open an influencer's page in your IRM and click Share or Print to PDF, under their profile picture.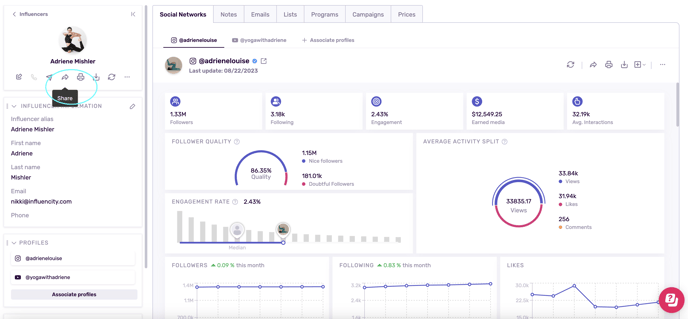 If you choose a shareable URL, will will get the same pop-up as seen above.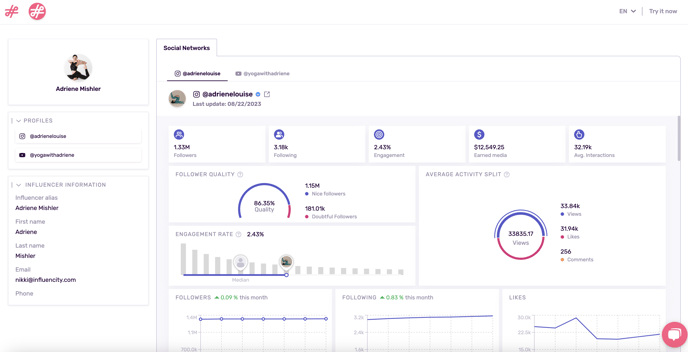 The print view is similar, but does not show the influencer's contact information.
Again, any notes, email exchanges, and prices are omitted from share or print views.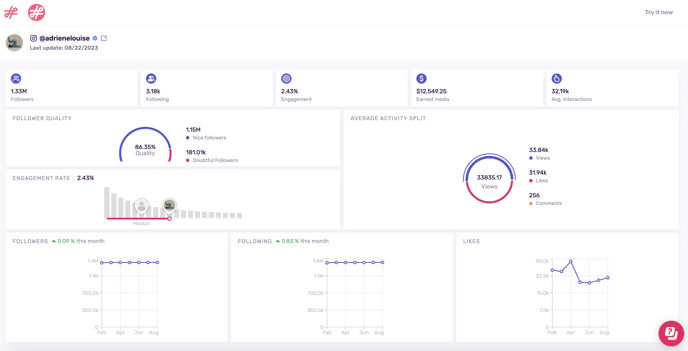 Sharing and Downloading List Data
Share and download list stats in the same way, by clicking on either the arrow or printer icon under the profile picture.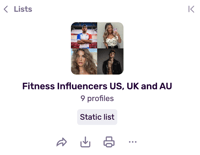 When you share a list of profiles (social media accounts), other users will see their KPIs in the main table. They can also switch to the Aggregated data tab, to see the combined KPIs, and the Overlap tab, where they can see the percentage of unique and overlapping followers each profile brings to the list.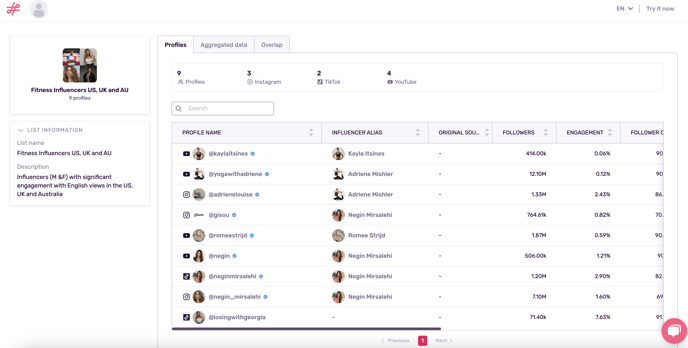 When you share a list of influencers (the content creators who own the profiles), it's similar to sharing a section of your contact list; users will see the influencer's name, the profiles associated with them (but not their KPIs), their email and phone number.

FAQs
Do You Need an Influencity Account to View the URL?
No, the shareable URL is public and anyone who is sent this link can view it.
I Don't Have the Option to Share of Download IRM Data
This feature is available in the Professional and Business plans, and can also be included as an Add-on in a customized Bundle. To include this feature, please upgrade your subscription following the steps outlined here.
How Do I Share Both Influencer Contact Details and Profile KPIs?
Associate all the influencer's profiles to their influencer page following these steps.
Once their page is complete, select the option Share via URL.
When shared, their profile will appear as above, with their contact details along the left and their KPIs segmented by social network.
I Can't See an Influencer's KPIs
Keep in mind that you can only see an influencer's KPIs if you have associated social media profiles to this page. In the example below, Anita doesn't have any profiles associated with her, so, we can't see key data like her public email address, public phone number or social media KPIs.