Due to the ways in which certain filters overlap, some results might appear in multiple searches.
Overlapping Interests
Sometimes similar results appear when running searches with the interest filter. This is because many self-defined "lifestyle" influencers post general content about their lives that includes, style, cars, beauty, family, travel, etc. As such, the same profile may appear when you search for the interest Shopping & Retail and when you search for the interest Travel, Tourism & Aviation.
To get around this, try specifying other aspects of your search using the bio and hashtag filters to find profiles that contain certain words in their bio or concrete #hashtags in their posts. Additionally, you can eliminate some profiles by choosing to search for only verified accounts or accounts with a public email address.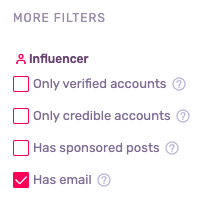 Number of Followers
For example, if one day you run a search for influencers from California with an audience of above 10,000 and another day you run a search for influencers from California with between 30,000 and 50,000, many of the influencers from your initial search may still appear as technically they still meet this criteria.
Refine Your Searches
To ensure that you're always finding new and different influencers, we recommend trying a variety of different filters.
Keep learning how to optimize your searches on Instagram, TikTok, and YouTube or take a look at our Filter FAQs.