Discover is like a Google Search bar for influencers. Look through our database of over 130 million profiles and find the perfect fit for your brand.
Read the entire article or jump to a specific section below:
View an Influencer's Social Media Profile
How Can I Save My Search Results?
The Discover Product
To find this section from our main landing page, click on the Search Influencers tile or on New Search, along the top.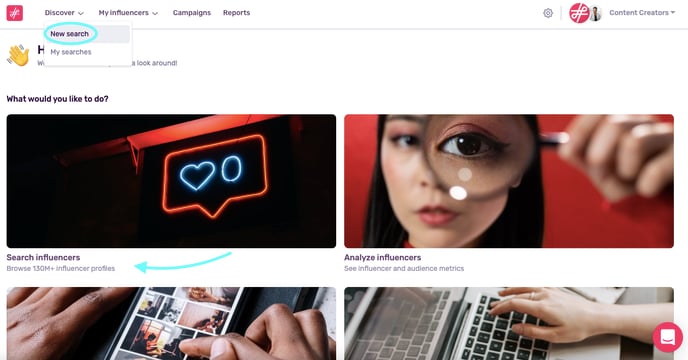 Influencity Selections
Once in Discover, the first thing you'll see is a number of pre-set quick searches. Explore the influencers that are trending in different cities all over the world or create a custom search by clicking Search Influencers.
Search Influencers
When you click Search Influencers, a pop-up window will appear along the side. The first step is to choose your platform. Run your search on:
The filters work like a funnel, starting with categories such as number of followers, follower growth and average interactions, and later getting more specific, allowing you to sort influencers by age, geographic location, audience ethnicity and more.
Influencity lets you filter searches not just by influencer metrics, but also by the metrics of their audience. For example, you can search according to the geographic location of the influencers (the pink icon) and their followers (the blue icon).

It's not necessary to enter a value for all the filters; you can make your search as broad or as specific as you wish. You can see how each filter affects the total number of results by looking at the bottom of the page at Show Results. Once you've set your filters, this is the button you click to see your results.

Tip: To help refine your specific searches, check out our guides on how to use the filters on Instagram, TikTok and YouTube!
Search Results
Your results will automatically be displayed in 3 columns: Followers, Average Interactions, and Engagement. Any other columns will depend on the filters applied. To illustrate this, let's take a look at this sample query where we've filtered for Instagrammers from the United Kingdom with an interest in fitness and yoga.
All the filters applied appear along the top. As for the audience, we've filtered for influencers with at least 25% of their followers from the UK and at least 20% of their audience between 25 and 34 years of age. The columns Audience Country and Average Age show the percentage of the Instagrammers' audience from the UK and the percentage that falls within this age range. These two metrics only appear because we've added these filters.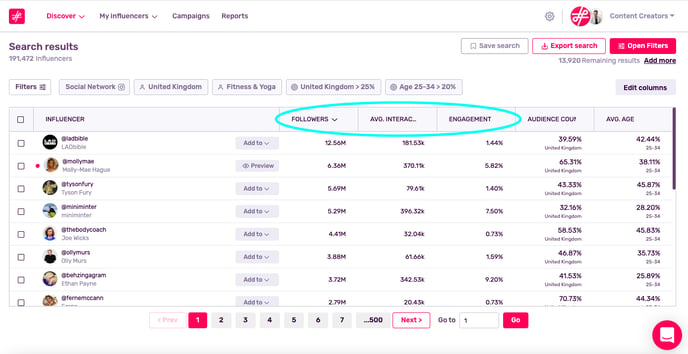 View an Influencer's Social Media Profile
Take a look at an influencer's social media profile to see if their content matches your brand. To do this, select the profiles you want to view and click Go to Social Network. These profiles will open automatically in tabs in your browser.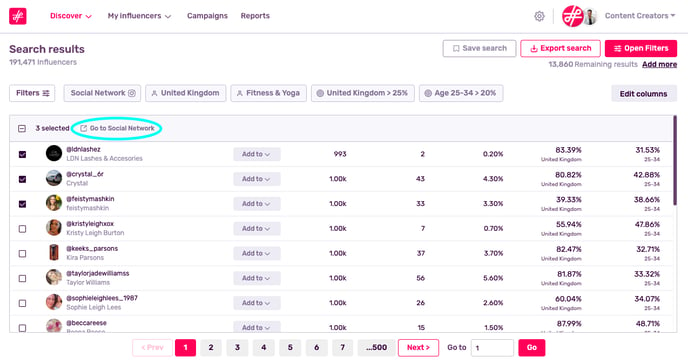 Google Chrome and Firefox will block more than one pop-up by default. To get around this, open your pop-up blocker and select Always allow pop-ups and redirects from Influencity.com.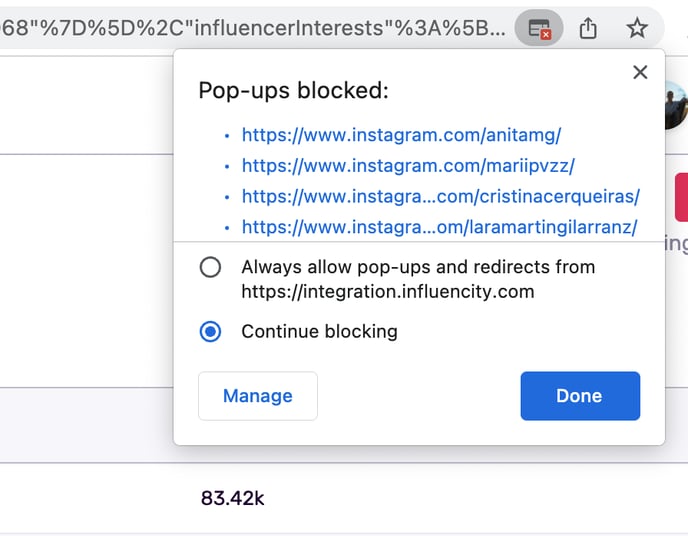 Adding Profiles to Your IRM
Once you've found a profile you like, you have 3 options:
Save - save this profile to your IRM (you can analyze it to view its KPIs or save it and analyze it later).
Add to influencer - save this profile to your IRM (analyzed or not) and associate it to an influencer in your IRM.
Add to lists

- save this profile to an existing list or create a new one.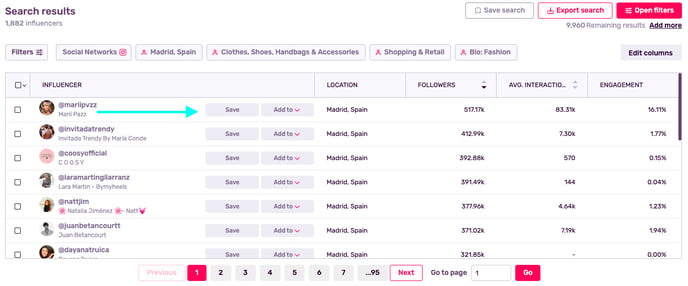 If you want to see a profile's full KPIs, be sure to check Yes, analyze in the pop-up window (shown below). The 'cost' of this action will be shown as well as your number of remaining analyses. As we are just analyzing 1 profile, only 1 monthly analysis will be deducted. Check out our article on Monthly Analyses for information on how they are deducted.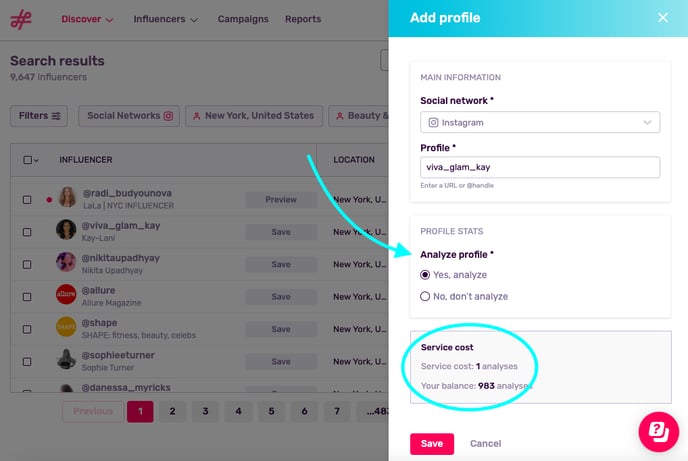 You now have access to this content creator's full stats. If you want to view them without leaving the current page, click Preview.
Do I Have to Analyze a Profile to Include it in the IRM?
No, if you don't analyze a profile it will simply be saved without metrics in your IRM. This function is similar to adding a contact to your address book in your phone. While you may not have any metrics to compare performance, you can still associate this profile with an influencer, save their price information, and include them in campaigns.
Monthly Remaining Results
In the top right-hand corner you can see your monthly remaining results. Searches on our platform are unlimited, however, results will be deducted as you "discover" profiles and see their basic stats. As you are shown 20 influencer profiles per page, 20 results will be deducted for every page you view. For a full breakdown of how your monthly results are used, take a look at our article, What Are Monthly Results and What Are They For?

How Can I Save My Search Results?
If you're happy with your search and want to return to it later, you can save it or export it.

Save Search
Add a name and description to your search and access it at any time here:

Tip: If you return to a search within 3 days, no additional monthly results will be deducted for pages you've already viewed. Past this period, data will have been updated and monthly results will be deducted when you view these profiles.
Export Search
If you click on Export search, a window will pop up asking how many of your results you wish to export to an Excel or Google Sheets file. Choose to export a range of the most relevant results (i.e., the top results) or the entire search. The window will also include information about the service cost of this action, which is calculated as 20 monthly results per page exported.
The exported file will contain the exact same information that you see on the results page; you will not have the content creators' full stats until you add them to your IRM. If you wish to share an influencer's full details, you can export influencer data from the Influencers section.
Warning: Keep in mind that if you export an entire search, you will be deducted 20 profiles per page that you export.