Make the most of the Influencer Relationship Management (IRM) tool.
An IRM allows you to create and maintain relationships with the influencers in your campaigns. In this article, you'll learn how to use these 3 sections of the IRM tool.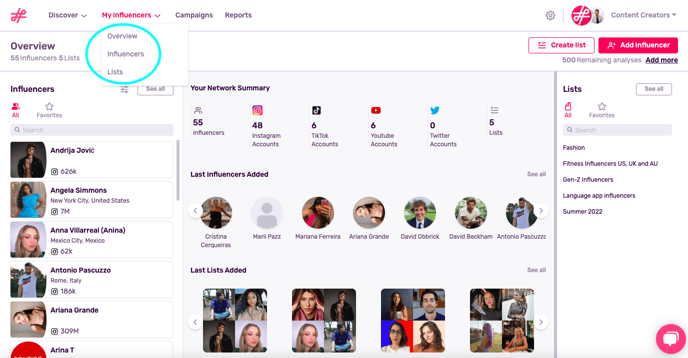 The IRM Overview Page
This page offers a snapshot of all the content in your IRM. On the left, you have your influencers. Here, search for a profile by its name or hover over a section for these options: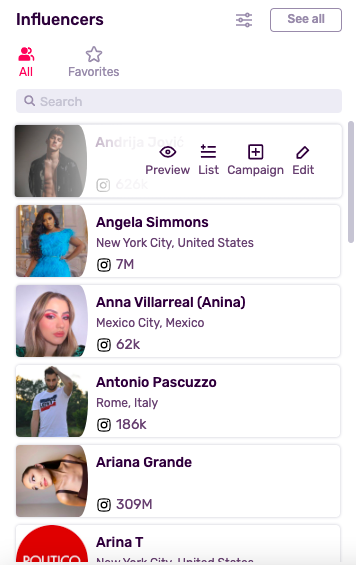 In the center, you have a basic overview. See the total number of influencers in your IRM and the breakdown by social media network. You can also access your last influencers added and the most recent lists.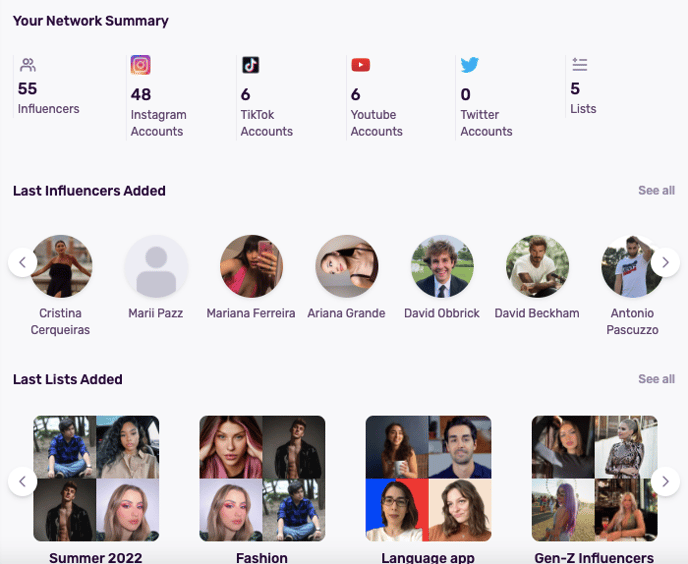 On the right, you have the option to create a list to organize your influencers and see their aggregate metrics. If there's an influencer that you already know of and would like to include in your IRM, create a profile for them by clicking Add influencer.

Below, there's a section to view and search through your existing lists.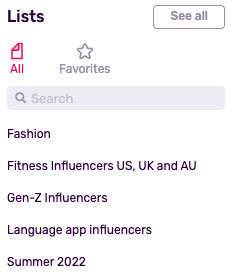 Influencers
Select this page to view and work with all of your content creators. Here you can:
Search for a specific profile among the ones saved to your IRM by clicking on Filters and filling in the fields in the pop-up window.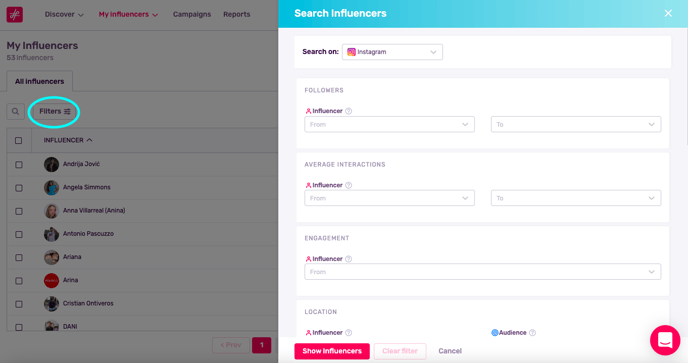 Add influencers to a list or campaign as a mass action by ticking the boxes next to their profiles and selecting an option under Add to. You can also eliminate these content creators from your IRM by selecting Delete.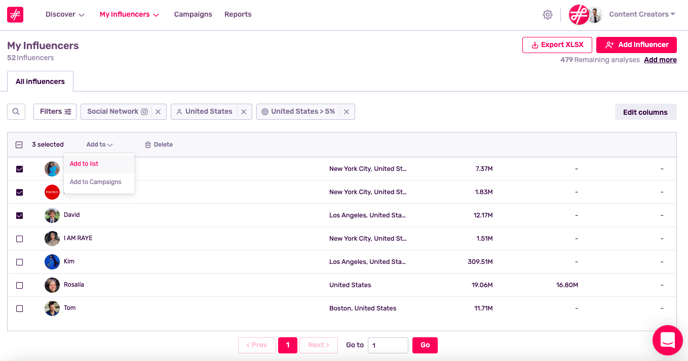 Warning: If you delete a profile from your IRM and later wish to include it, this will have the cost of one monthly analysis.
Add influencers to a list or campaign one by one by hovering over their name. This action also gives you the option to preview their profile or edit their information.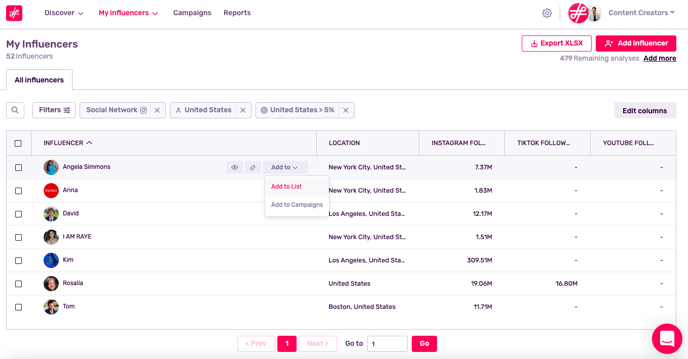 Export Your Influencers by saving your influencer data to an XLSX or Google sheets file.
Lists
View and sort through all of your lists in one place. This page gives an overview of the number of influencers and social networks included in each list and is customizable – select the accounts you want to display by clicking Edit columns. If you don't have any lists yet, add one by clicking Create list.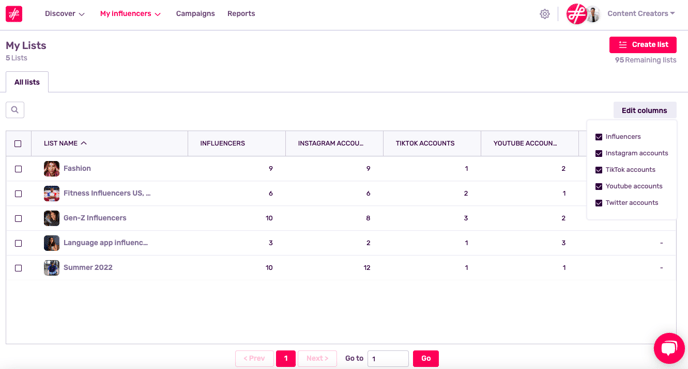 Put your lists into action by converting them to campaigns directly from your IRM. This can be done as a mass action, by ticking profiles and clicking Add to and Campaign, or one by one by hovering over each profile.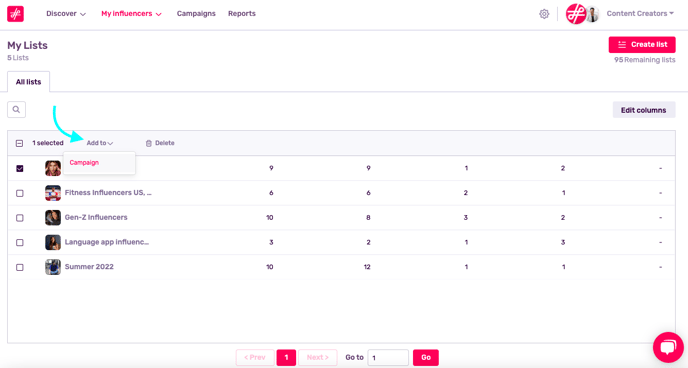 What Can I See on an Influencer's Page?
Manage your relationship with an influencer all on one page. This page can be divided into 3 sections. On the left you can:
Create a note that will be visible to other brand users. Use this feature to keep all users up-to-date on information related to this influencer (ex: this influencer only drinks sparkling water).
Integrate your email to contact an influencer directly from the platform. These exchanges will be visible to all brand account users.
Print this page or save it as a PDF.
Export this page to an XLSX document.
Create a shareable URL link to send to clients and colleagues.
Refresh this page to see the latest metrics.
Add a social media network to this influencer. (ex: if your Instagrammer has a YouTube channel, you can add this profile here to keep all their data in one place).
Edit a content creator's name, prices or phone number, or add an alternate email address.
Delete this influencer from your IRM.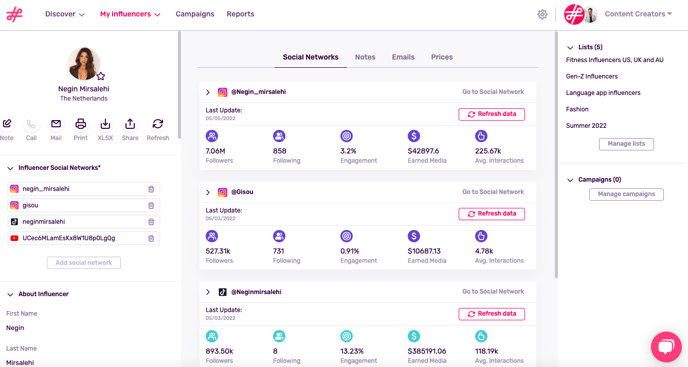 In the center, view an influencer's metrics according to social network. This particular influencer has profiles on Instagram, TikTok, and YouTube. By associating all of these accounts with one influencer, we have gathered all of her information in one place. Expand each section to view the detailed metrics for each social network. Read about the 20+ metrics that Influencity provides for each social network here:
Along the top, you'll once again be given the option to create a note, send an email, or add pricing information.
On the right side of the page, view this influencer's lists and campaigns. Click Manage lists to add or eliminate them from a list. Click Manage campaigns to include or delete them from campaigns.