Find the content creator you're looking for quickly and easily in your IRM.
This article will teach you how to:
How Do I Filter for Influencers in the IRM?
Yes, the IRM filter lets you find the exact content creator you're looking for within your saved influencers. This tool is great if you've saved profiles from several different searches and now want to find an influencer profile that fits specific criteria.
Open the filter by going to My influencers and selecting Influencers from the drop-down menu.
Click Filters which will open a pop-up on the side. Like in the Discover product, this tool lets you narrow down your search.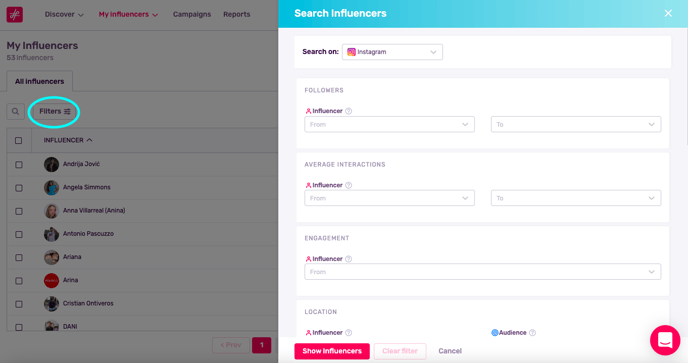 Note: When filtering for content creators in your IRM, you will only be shown the profiles that have already been saved to your IRM. To run a search for new influencers, check out our articles on how to run searches on Instagram, TikTok, and Youtube.
Refine your search by setting these filters:
Followers.
Average interactions.
Engagement (average interactions divided by the number of followers).
Location.
Gender.
Age.
Interests.
Language.
Brand Affinity.
Lookalikes.
Hashtags.
Ethnicity.
Influencers with an email address.
Like in Discover, the filters with a pink icon apply to the influencer and the filters with the blue icon apply to their audience. Some filters, like location, can be set for both.

Once you've set your filters, click Show influencers. The display page has various options:
Click on a content creator's name to open the Influencer Preview pop-up.
See the filters applied along the top. Filters applied to an influencer will appear with a profile symbol and filters applied to followers will appear with a target symbol. In our example below, we're searching for influencers in the US with at least 5% of their followers from the US.

To delete a filter, click on the 'X.'
Click Edit columns to customize the information shown. For example, if you're only interested in seeing your Instagram results, you can untick TikTok and YouTube.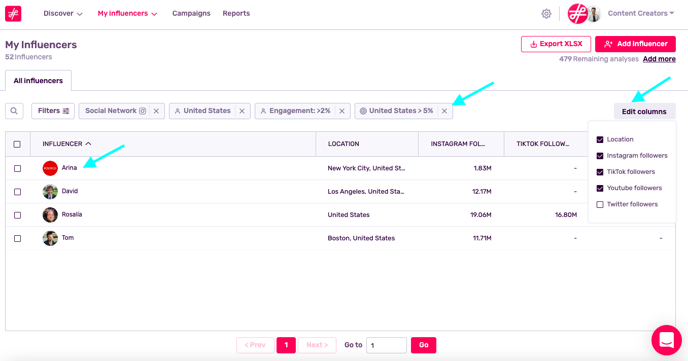 Tip: The IRM filter is great if you're looking for a group of influencers to include in a list. For example, you could make a list of fashion influencers based in the US. This is a good way to organize your IRM and also lets you see this group's aggregate metrics.
How Do I Search for Influencers in the IRM?
Search from My influencers Overview:
Type a name in the search bar on the left.
If you've recently added or created an influencer, they will also appear under Last Influencers Added.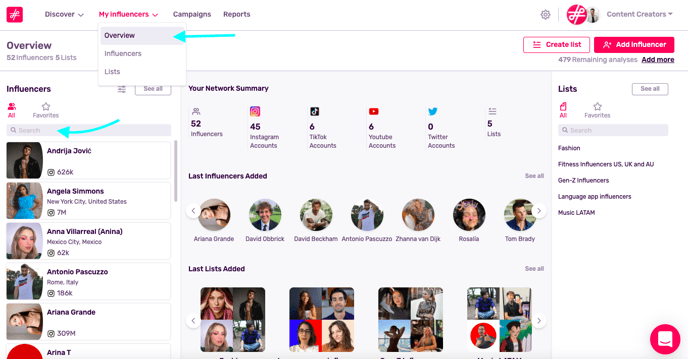 Search from Influencers:
Select Influencers from the drop-down menu and type their name in the search bar on the left.