Use the Brand Affinity metric to better understand your influencers and their audience.
View this metric in an influencer's profile in your IRM. When you add an influencer from Discover or create an influencer in your IRM, you will have access to this data.
What Is Brand Affinity?
This metric shows the brands that influencers and their followers interact with on Instagram. An interaction includes:
@mentions or #hashtags of a brand in a post, story, carousel, or video.
Written text in a post caption that mentions a brand.
Location tags in stores, restaurants, hotels, etc.
Following a company's official page on Instagram.
'Liking' posts published by a brand's official page.
Where to View Influencer Brand Affinity
To view this data, open the Profile page in your IRM and click on a profile's handle. Then, scroll down to Brand Affinity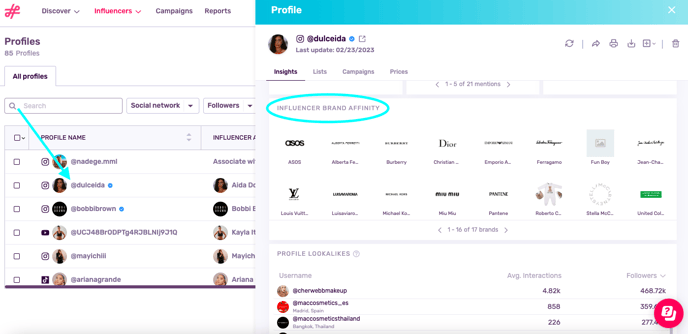 The top brands that this influencer interacts with will appear here. This includes fashion brands, restaurants, and even mobile applications.
Audience Brand Affinity
Influencity also analyzes an influencer's followers to show you the companies they interact with the most. View this metric on the same page by scrolling down to audience metrics.
Here, companies are sorted by type, such as Shopping & Retail, Activewear, etc. Click on a category to see the companies that this influencer interacts with in this sector.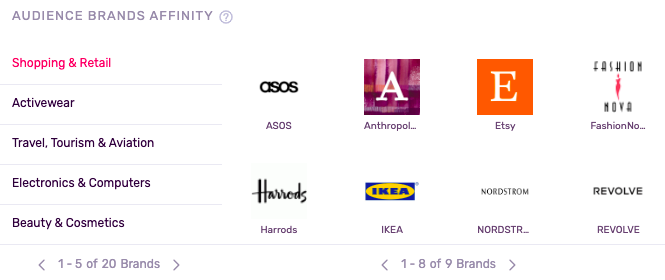 Does Brand Affinity Mean an Influencer Has Worked with these Companies?
No, this metric measures the interaction between an influencer and a company, this does not mean that this influencer has a professional relationship with these brands.
To give an example, Kim Kardashian might upload a post while shopping at Harrods. This doesn't mean that she has been paid to take part in their campaign, but rather that she's interested in fashion and luxury goods and often interacts with this type of company.
How Is this Metric Calculated?
Influencity uses 2 types of Artificial Intelligence (AI) to bring you this data:
Natural Language Processing (NLP) - this branch of AI allows a computer to "read" the content of #hashtags, @mentions, and captions. For example, if David Beckham were to @mention Rolex in an Instagram post, Influencity would read this and associate this brand with his profile.
Image recognition - this technology scans an image, just like a human would, to identify brand logos in a post. To follow our example above, if David Beckham were to upload a photo holding a Starbucks mug, our AI could "see" this and associate Starbucks with this influencer.
Learn how Influencity brings you these metrics and more in this article.
How Can I Use the Brand Affinity Metric?
Brand Affinity gives users an idea of the type of company this influencer interacts with regularly. For example, if an influencer has companies like Zara, Asos, and Ralph Lauren in their Brand Affinity, it's likely that they're interested in fashion and have posted this type of content before. This would be perfect if you're looking for a content creator to help you share your Summer fashion campaign.
Likewise, Audience Brand Affinity can give you an idea of the follower community you can target with your sponsored content. Followers interested in Harrods, Nordstrom, and Prada may be interested in different types of products than those interested in Fashion Nova – Audience Brand Affinity helps make sure your message gets across to those who are most likely to be impacted by your brand.
Can I View Brand Affinity for Influencers on TikTok and YouTube?
No, at the moment this metric is only available for influencers on Instagram.
Can I Search for Influencers According to Brand Affinity?
Yes, when setting filters in the Discover product you can choose among 3,000 companies and filter for the influencers and audiences that interact with them. Check out this article on how to use Influencity filters to find influencers on Instagram.
If you can't find a brand name, please contact us at support@influencity.com and let us know.