Learn how to analyze an Influencer's profile to view its full KPIs.
Analyze influencer profiles from these two Influencity products:
Analyze Profiles in Your IRM
Your IRM – or Influencer Relationship Management tool – is the second tab in the Influencity menu. In this section there are multiple ways that you can analyze a profile:
From the Profiles page
Open this page and click Add profile.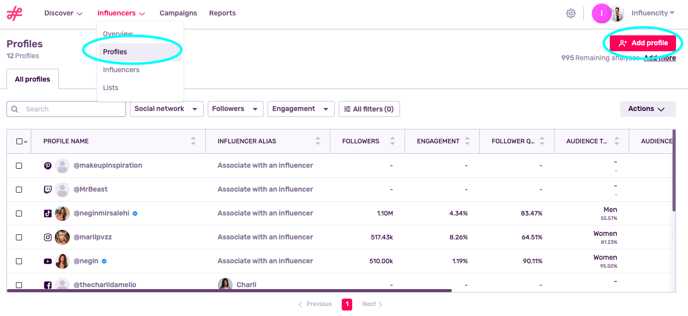 Next, you'll be asked to select a social media network and paste the profile's @handle or URL. To see a profile's full performance stats, be sure to leave the Analyze Profiles box ticked. Unlocking these KPIs has the "price" of 1 monthly analysis.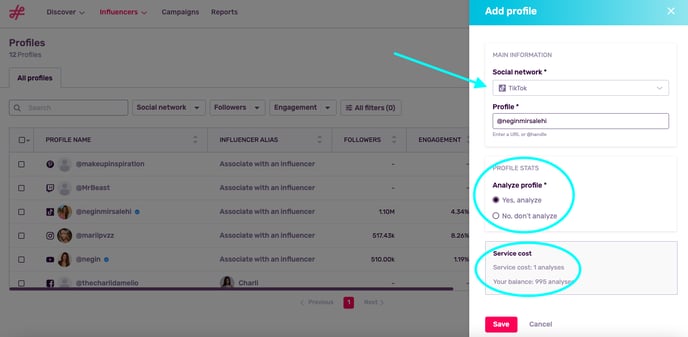 From an Existing Influencer
If you've already added an influencer to your IRM, you can add and analyze additional profiles by going to their page by going to Add profile.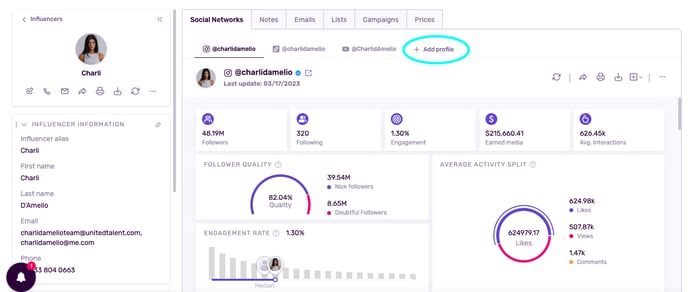 Analyzing Profiles from the Discover Product
Influencity's Discover product is like a Google Search bar for influencers. If you're still new to this product, first check out this article to understand how Discover works.
Once you've found an influencer you like, you have 3 options:
Save - save this profile to your IRM (you can analyze it to view its KPIs or save it and analyze it later).
Add to influencer - save this profile to your IRM (analyzed or not) and associate it with an influencer in your IRM.
Add to lists - save this profile to an existing list or create a new one.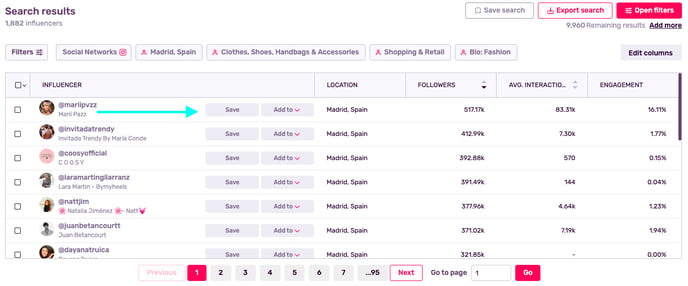 If you analyze a profile, you can see all its metrics from that same page by clicking on Preview, or by going to the Profiles section of your IRM. Below is an example of what you'll see when you click preview. This pop-up displays Influencity metrics such as Follower Quality, Audience Lookalikes, and Earned Media Value. If you go to View profile, at the bottom, you will be taken to your IRM.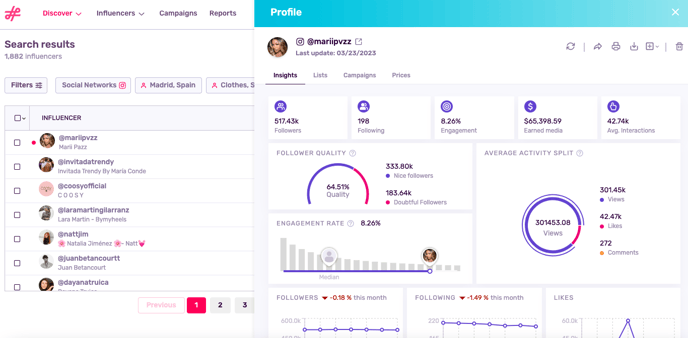 Note: These metrics are only available to users who subscribe to both the Discover and IRM & Data products. To learn how to add IRM & Data to your bundle, click here.
Can I Add Multiple Profiles to an Influencer from Discover?
No, this action is not possible from Discover. Say you analyze an influencer's YouTube channel in one search, and then their Instagram page in another. When you go to your IRM, these two profiles would not be linked, even though they are run by the same influencer. To have all an influencer's profile details in one place, learn how to associate the two in this article.
The Next Steps
You've now learned how to analyze profiles with Influencity. What's next? Learn how to work with these profiles in this guide to your IRM home and how to integrate your email to the Influencity platform to start contacting and negotiating with your influencers all in one place.