See the aggregate data of a group of profiles by creating a list in your IRM.
Curious to see how a group of profiles will perform together? Influencity's list feature allows you to combine different profiles to see their reach, engagement, and audience metrics.
What Do Lists Do?
Creating lists allows you to:
See the combined Key Performance Indicators (KPIs) of 2 or more profiles. This gives you an idea of the impact you'll have when you run a campaign with this group of profiles.
See the percentage of shared and unique followers that each profile brings to a group. That is, the percentage of your audience who followers more than one profile in this list (available for Instagram and YouTube).
Organize influencers into lists by region, industry, campaign, etc. and send them bulk emails regarding your collaboration.
What Information Can I See in a List?
This depends on if your list is made up of profiles (social media accounts with KPIs) or influencers (real people and the owners of the social media accounts).
Profile lists
Profile lists are divided into 3 tabs:
1. Profiles:
Click here to see all the profiles included in this list. Delete profiles by clicking the box next to their name and selecting
Remove
(this will remove them from this list, not your IRM), and update their metrics by clicking on the
@handle
and the refresh button.
2. Aggregate data:
Click here to see aggregate metrics segmented by social network. To see aggregate YouTube KPIs, click YouTube. Scroll down to see the audience that this group of profiles impacts.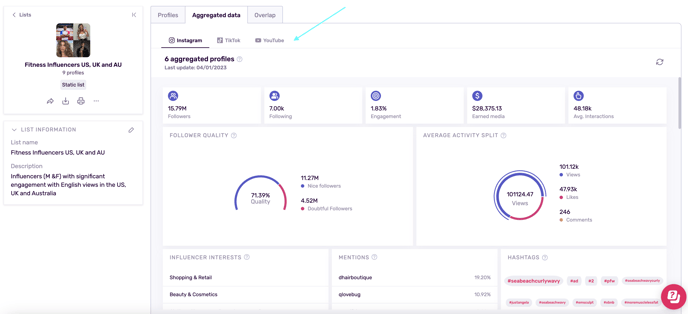 Note: Audience metrics like city, ethnicity, interests and brand affinity are only available for Instagram.
3. Overlap:
This is where you can see
the percentage of shared and unique followers that these profiles contribute to the group
. For example, 85% of @mrbeast's 40M followers are unique, and only 14% follow another account in this list.
This data is available for Instagram and YouTube.
Learn more about follower overlap here.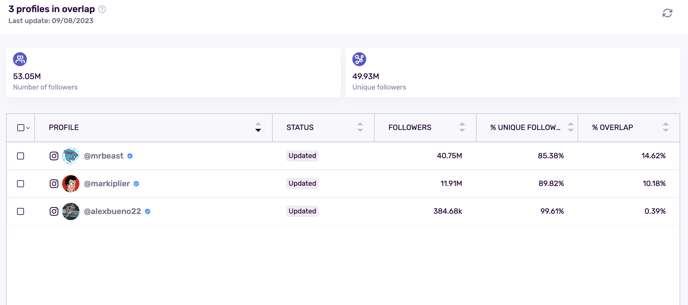 Influencer lists
Create influencer lists to organize your influencer contacts and keep all their info in one place. For example, we want to include these creators in our Fall'23 campaign, so we've added them to a list where we can see their names, emails, and phone numbers.
Lists are also great for communication, as you can send bulk emails to all the members straight from this page.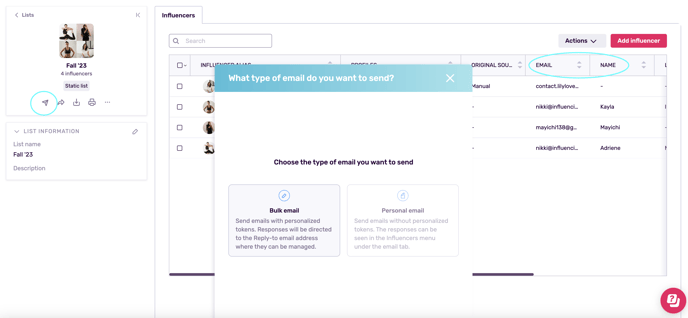 How Do I Create a List?
Read our article on how to create a list to get started.
How Many Lists Can I Create?
This depends on your subscription. With a Professional subscription, for example, you can have 100 active lists at once. You can add and eliminate influencers from a list at any time as well as update its name and description.
Tip: Try different profile combinations within one list to optimize your reach and engagement.
Can I See the Overlap Between Social Media Networks?
No, unfortunately, we cannot show the follower overlap between social networks (i.e. the percentage of users that follower an Instagram profile and a YouTube channel).