See the aggregate data of a group of influencers by creating a list in your IRM.
Curious to see how a group of influencers will perform together? Influencity's list feature allows you to combine different influencer profiles to see their reach, engagement, and audience metrics.
What Do Lists Do?
Creating lists allows you to:
See the combined Key Performance Indicators (KPIs) of 2 or more influencer profiles.
Get an idea of the impact you'll have when you run a campaign with this group of influencers.
Organize your IRM by sorting influencers by region, industry, and follower base (i.e. nano-, micro- or mega- influencers).
See the percentage of audience overlap. That is, the percentage of your audience who followers more than one profile in this list (Instagram only).
What Information Can I See in a List?
When you open a list, the total number of profiles and the number of profiles from each social network will be displayed at the top.
Next, you'll see the aggregated Key Performance Indicators (KPIs), that is, the combined total of all the influencers in your list. These metrics are separated according to social media network:
The total number of followers (i.e. all the followers you reach with your Instagrammers, Tiktokers, and YouTubers).
The number of accounts followed.
The number of unique followers (Instagram only).
The engagement rate (number of interactions divided by the number of followers).
The number of average interactions.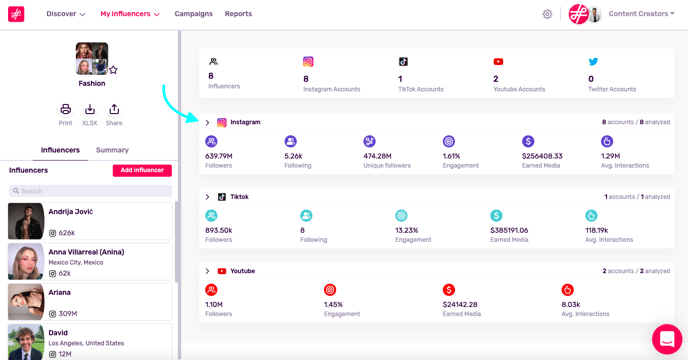 Expand each section to see the metrics from that social network. Here, we're looking at the combined performance of content creators on Instagram and can see:
The average activity split.
The percentage of Follower Overlap

in this group of influencers (Instagram only).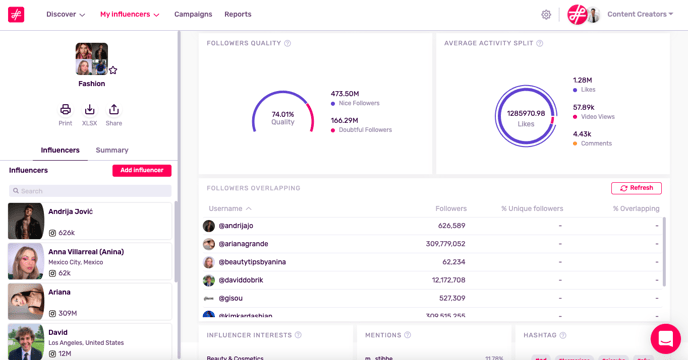 Scroll down further to see these aggregate metrics:
The interests of this group of influencers.
The top @mentions and #hashtags they've used.
The brands these content creators interact with.
Note: At this time, these 3 metrics are only available for Instagram profiles.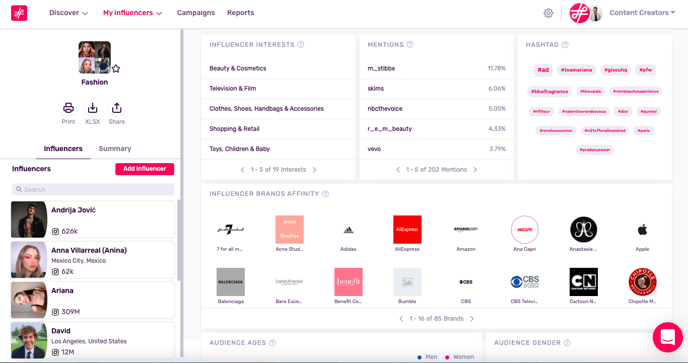 Finally, at the bottom, view the demographic metrics of all the followers you would reach with the influencers in this list. This section gives you these details about your potential audience:
Age.
Gender.
Top countries.
Top cities (Instagram only).
Language.
Ethnicity (Instagram only).
Audience interests and brand affinity (Instagram only).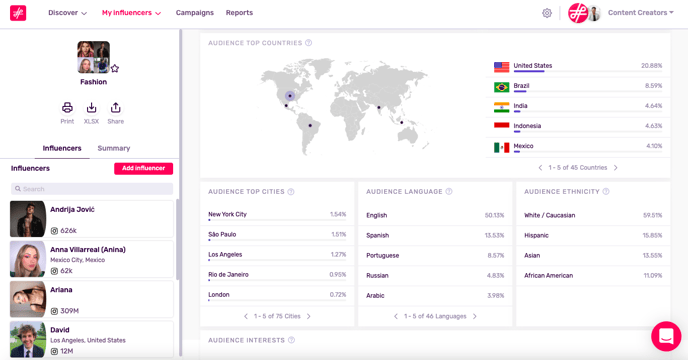 How Do I Create a List?
Ready to see how your influencers will perform together? Read our article on how to create a list to get started.
How Many Lists Can I Create?
This depends on your subscription. With a Professional subscription, for example, you can have 100 active lists at once. You can add and eliminate influencers from a list at any time as well as update its name and description.
Tip: Try different profile combinations within one list to optimize your reach and engagement.
Can I See the Overlap Between Social Media Networks?
Unfortunately, at the moment we cannot show the follower overlap between social networks (i.e. if a user follows an influencer's Instagram account as well as their YouTube channel). However, our Follower Overlap feature can show you the unique and shared followers of a group of influencers on Instagram.