Learn how to interpret the information that appears when you run a search in Discover.
The information that appears on this results page depends on the specific search that you run. This article offers an overview to help you interpret your results.
Your Search Results Page
In this search, we're looking for Instagram beauty influencers in New York, USA. The filters we've set are displayed at the top of the page. Filters with a pink profile icon refer to the influencers, and filters with a blue target icon refer to their audience.
As you can see, we've set influencer filters for Instagram, New York, Beauty & Cosmetics (interest), Beauty (bio), and Male or Female (gender). As for audience filters, we want at least 20% of followers to be located in the United States and for at least 20% of them to be female.
In the table below, we can see the 3 default metrics: number of followers, average interactions, and engagement, as well as some columns that match the filters we've set: location, audience location, and audience gender.
Search results are displayed with 20 profiles per page. As such, 20 monthly results are deducted from your account for every page you view. If you view pages 1-3, a total of 60 results will be deducted. Read more about how your account is "charged" here.
If you want to adjust your filters, click Open filters. If you want to hide a column, click Edit columns.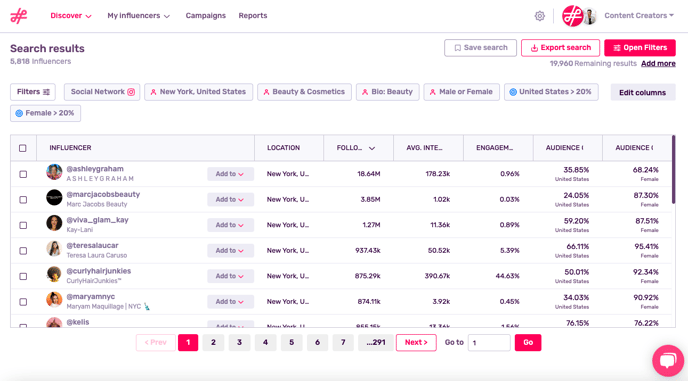 Tip: Setting the gender filter to male & female is a good way to avoid brands appearing in your search.
Can I Sort My Results?
Yes, you can sort profiles according to the number of followers and the number of average interactions.
For example, if you want to see the influencers who engage the most with their followers, click on average interactions to see these profiles first.
Caution: Sorting your results by a different metric means that 20 new profiles will be displayed. As such, this action comes with a charge of 20 monthly results.
How Can I See an Influencer's Full Metrics?
In order to see an influencer's full metrics, such as Earned Media Value (EMV), follower quality, email address, and their activity split, you must add these influencers to your IRM.
To do this, go to Add to and Add to Influencers.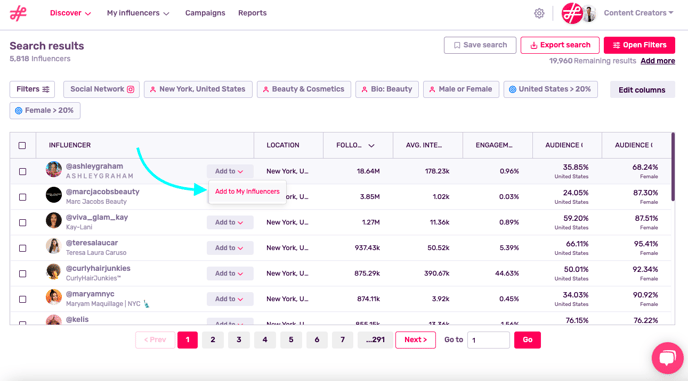 Can I Save My Search?
Yes, you can save your search and work with it later or export it and share it with clients and colleagues.

More Information About Searches
Learn why certain searches obtain the same results or get inspired by our user cases.