Let us answer your questions about the Influencity refund policy here.
We recommend that all potential customers take a look at these points before confirming their account subscription. For more information, you can also check out our article on how to cancel your Influencity subscription.
What Is the Influencity Refund Policy?
Influencity has a NO refund policy. This is because we try to be as transparent as possible with our customers from start to finish so that businesses that purchase our product know exactly what they'll be getting each step of the way. For example:
On our pricing page, we include a short FAQ Section that describes how to cancel your account.
When purchasing our product, customers are asked to view and accept the Influencity Terms and Conditions.
In addition, as part of the checkout process, we include quick Callouts to draw customers' attention to our cancelation and refund policies.
Finally, we try to provide our clients with all the information they need to make the most of their subscriptions through helpful articles in our Knowledge Base and our on-page Chat feature.
As we do our best to provide customers with all possible information before and after purchase, Influencity will only provide refunds if there is a mistake on our end that we are unable to resolve within 30 days. This termination for cause is outlined in point 7.B of our T&Cs:
Termination for Cause, point 7.C:

C. Termination for Cause. Either party may terminate this Agreement for cause, as to any or all Subscription Services: (i) upon thirty (30) days' notice to the other party of a material breach if such breach remains uncured at the expiration of such period, or (ii) immediately, if the other party becomes the subject of a petition in bankruptcy or any other proceeding relating to insolvency, cessation of business, liquidation or assignment for the benefit of creditors. We may also terminate this Agreement for cause on thirty (30) days' notice if we determine that you are acting, or have acted, in a way that has or may negatively reflect on or affect us, our influencers, or our customers. This Agreement may not otherwise be terminated prior to the end of the Subscription Term.
If you terminate this agreement for cause, we will promptly refund any prepaid but unused fees from our subscription service.
I Forgot to Cancel My Influencity Subscription
Unfortunately, we are not able to refund customers who forget to cancel their subscriptions. At Influencity, we try to make cancelations as easy and transparent as possible to avoid this issue. We do not require account permanence and you can cancel your subscription at any time from the Products & Billing section: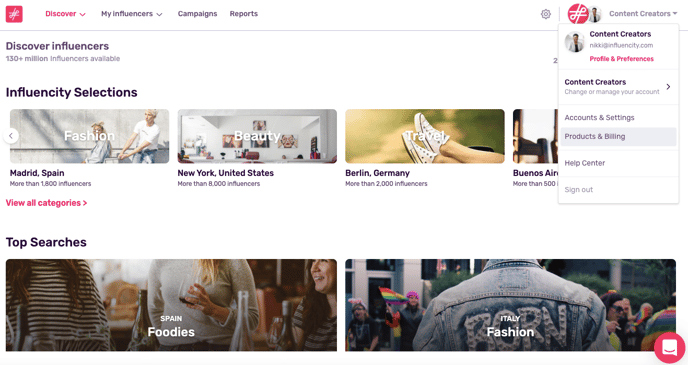 From here, just scroll down to the bottom of the section and click Cancel Subscription: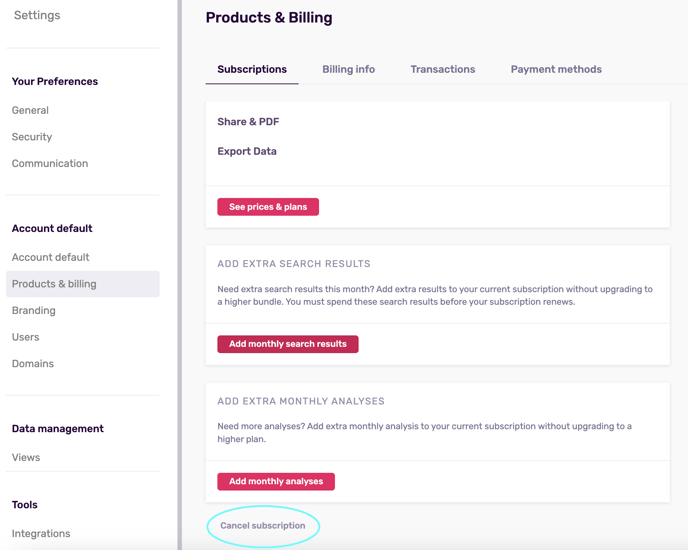 Warning: Your account will not be canceled until you receive a cancelation notice on your screen. If you have any doubts or if the notice doesn't appear, please let us know through the live chat feature or via email at support@influencity.com.
Early Cancelation
Customers may choose to cancel their subscription early. This is possible under the condition that Influencity will not provide any refunds of prepaid fees from a subscription and that the customer will promptly pay any unpaid fees that are due.
I Didn't Receive an Email Before Being Charged
As a subscription service, our goal is to offer you uninterrupted access to our platform. We are not obligated by our T&Cs to send an email at the start of each billing cycle, and this is very much the norm in the online services industry.
To give a real-life example, the online streaming service Netflix does not send emails every month to warn customers of their next monthly charge. Instead, they make the cancelation process quick and straightforward so that customers can easily manage their subscriptions.
Tip: You can cancel your subscription right after purchasing and will be able to use the platform as normal until the end of your subscription.
I Haven't Used the Platform at All
While you might not have been actively using the product, during this time your user profile and its data were kept updated on our platform, which is one of the features of a Software as a Service (SAAS) company. As such, we are unable to refund you as we provided our service as outlined in our T&Cs.
Just like in our Netflix example above, streaming and subscription services do not refund customers if they do not watch any movies. If you're still new to Influencity and want more information on how to get the best use out of our platform, here are some links to get you started:
Another User Accidentally Re-Activated My Account
Unfortunately, we cannot be held responsible for the activity of users added to a company account. All account users have the ability to cancel and restart a shared account at any time. We provide notifications on our page when users go to restart their accounts to decrease the risk that they reactivate their accounts without knowing.
Caution: There is only one way to cancel your account. Signing out of your account or deleting the information in your profile does not cancel your account.