Cancel your Influencity subscription by following these simple steps.
Influencity does not have account permanence, so you can choose to end your subscription at any time. If you choose to cancel, you will still have access to your account until the end of your billing cycle.
Cancel your account by following these steps:
Click on your profile picture and scroll down to Products & Billing.

From this page, scroll down to Cancel Subscription.




Next, you'll get a pop-up with a short customer survey. This information is very valuable to us, as it helps us improve our platform and customer experience. Any information that you provide will be very much appreciated.


The next window will ask if you wish to continue. Click Continue with cancel on the right.

Here, you'll have to give consent that all of your lists, campaigns, reports and account information be deleted. If you do not check all four boxes, you will not be able to proceed. Please note that this will not be effective until the end of your billing cycle.


Your cancelation is now complete. If you wish to undo this action, you can still do so by contacting Customer Success in this window.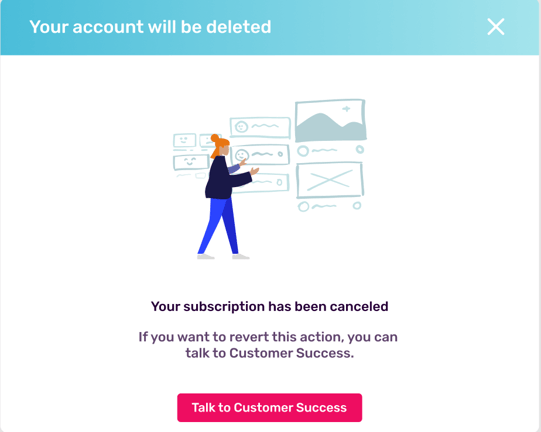 Will All My Data Be Erased?
When you cancel your account, you can still access the Influencity platform until the end of your billing cycle. Past this point, all of your personal and billing information will be eliminated.
Can I Reactivate My Account Later?
If you decide to reactivate Influencity within two months of canceling your subscription, it may be possible to recover your information. For help with this, please contact support@influencity.com.
Can I Save My Data Before I Cancel My Account?
Yes, you can save your data outside of the Influencity platform by exporting your search data, exporting your influencer data, or downloading a report in PDF. After the end of your billing period, this information will no longer be available unless you save it outside of Influencity.