Learn how tasks can help you estimate campaign performance and control the status and progress of your campaign.
Use tasks to represent the roles that influencers play within a campaign. By creating specific tasks, you can keep track of what has been completed, what is pending, and the cost of each action compared to your budget.
If you haven't created a campaign yet, learn how to create a campaign and set a global budget in your campaign briefing.
What Is a Task?
A task can be any action that an influencer completes within your campaign. This includes:
Uploading a photo, video, story, or carousel on Instagram.
Creating a video about your product or mentioning your product on YouTube.
Creating a 15- or 60-second reel on TikTok.
Other actions to help promote your brand, like attending an event or an opening.


Tip: Others is a free text field, so you can personalize this action to fit the needs of your campaign (ex: an influencer drinking your sports drink during a match).
What Are Tasks For?
If influencers are involved in multiple aspects of your campaign, for example, creating videos, uploading posts, and attending your promotional events, it can be hard to keep track of who is doing what, and for what price.
This is where Influencity Tasks come in. In just a few steps, you can assign multiple tasks to an influencer across social media networks, mark when they have been completed, and then Estimate how these tasks add up and compare to your budget.
To see Tasks in action, let's look at this collaboration with @arianagrande. As part of our grand opening, she has agreed to upload content to Instagram and attend as a VIP guest. We have included each task and its price here to keep track of her participation and costs. As she completes them, we change their status.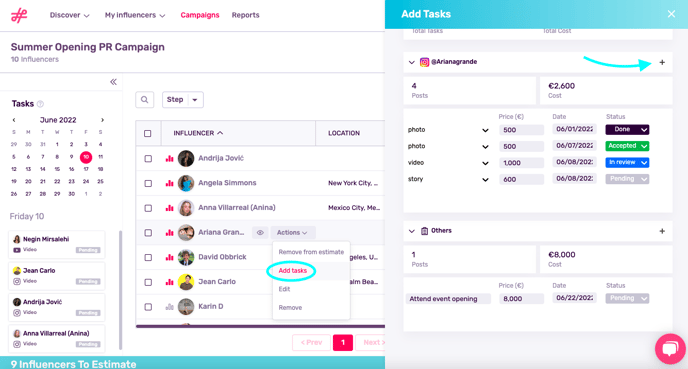 Want to see if all of this fits into your budget? Learn how to Estimate influencers to see the breakdown of their costs.
Are Influencers Notified When They Are Assigned Tasks?
No, Influencity Tasks are a way for your brand to keep track of influencers' participation. Influencers are not notified when they are assigned tasks or when their status is updated.
In our example above, all communication with @arianagrande would take place in the IRM. Learn how to integrate your email for seamless communication with influencers here.
How Do I Add an Event as a Task?
Learn all of this and more in our Campaign FAQs.
Let's Get Started
Now that you know all about tasks and what they do, start assigning them by following these steps.