Start talking to influencers in your IRM.
A key aspect of any Influencer Relationship Management (IRM) tool is the ability to contact and negotiate with influencers all in one place. Influencity offers all of this and more in our IRM product.
How Do I Contact Influencers?
The first step is to integrate your email into the Influencity platform.
Next, open the influencer's page in your IRM and select the Emails

tab.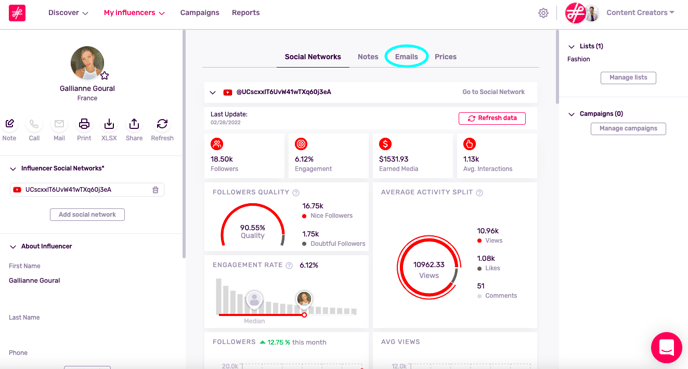 You can now contact your influencer as if you were writing to them from your normal inbox; influencers will not see that you are contacting them from the Influencity platform.
Your Influencity inbox will appear as below. If you have multiple brand users

, then their sent emails will appear here as well. This way, you can

keep track of all conversations, all in one place

.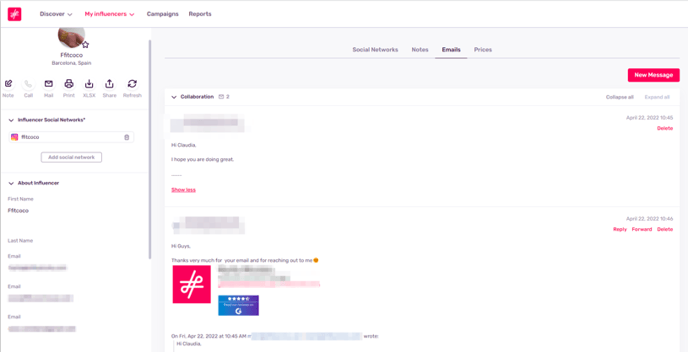 How Do I Find an Influencer's Email Address?
When you analyze an Instagram, TikTok, or YouTube profile, the influencer's public email address will automatically be extracted and displayed on their page in your IRM. When you go to the Emails tab, you will be able to contact them at this email address.
If an influencer does not have a public email address, you have a few options:
Contact them through a social media network. You can do this directly from your IRM by clicking Go to Social Network.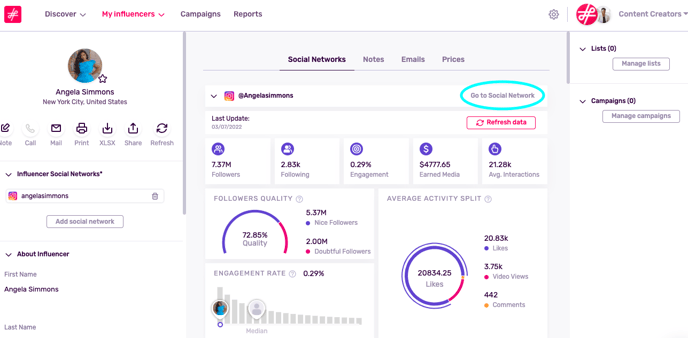 Search for them on other platforms such as Facebook or LinkedIn.
Once you've established contact, if they share a private email address or phone number with you, you can add these details directly to your IRM by clicking on Add email on the left side of their page.

Are Email Exchanges Private?
No, like with any Customer Relationship Management (CRM) tool, any email exchanged with this contact through Influencity will be saved and visible to all brand account users. This way, you know exactly what has been negotiated with an influencer.
This information is only shared with users you have chosen to add to your brand account. If you export this influencer's data, your emails, notes and pricing information will not be visible.
Will Influencity Help Me Negotiate with Influencers?
No, Influencity is a Business to Business company, not a marketplace or an agency. Our service is to analyze influencers' detailed performance metrics and provide a space where you can manage your relationship with influencers from end to end. As such, we do not interact with influencers directly.
Can I Send Mass Emails Through Influencity?
No, unfortunately we do not currently offer this feature. However, we are working to provide it for you soon.