Follow the steps below to downgrade your Influencity subscription.
How Can I Downgrade a Paid Subscription?
Downgrading your Influencity account is simple, just make sure these two criteria are met.
You Are Downgrading During the Last 5 Days of Your Billing Cycle
For example, if your billing cycle ends on 30 April, your window to change to a lower subscription would be between 26-30 April. If you try to downgrade outside of this period, the action will not be completed.
Your Account Is Within the Limits of the New Subscription
You will not be able to complete this action if your current account is using more features than what is permitted in the product you are downgrading to. For example, let's say you currently have a Professional Influencity account, and you want to change to our Basic product, the column circled in blue. Before you downgrade, you'll need to make sure that your account is in line with the limits of the Basic account. This would mean reducing the number of influencers stored in your IRM to 100 and using just one list at a time.

Warning: Following the example above, the platform would not permit any attempts to downgrade to the Basic product if your current account has 105 influencers stored in IRM, as this is above the limit for this product.
If these two criteria are met, you can downgrade by clicking on your profile picture and then scrolling down to Products & Billing.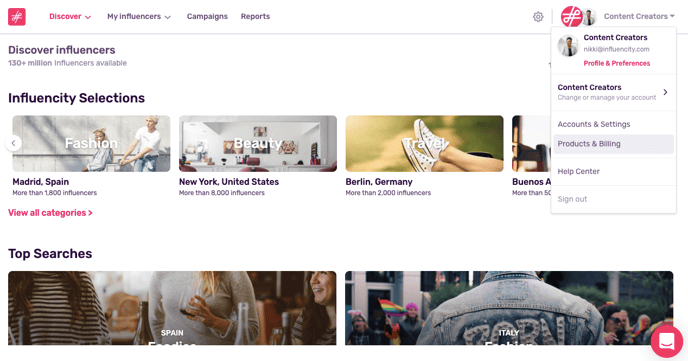 Then, from the Subscriptions tab, scroll down to View Pricing and Features. This will bring you to the Influencity pricing page where you can select a lower subscription or customize a bundle.
When Will My Downgrade Be Effective?
The change will be effective immediately, provided that you are downgrading within the last 5 days of your billing cycle. To give an example, say you're currently paying $300 a month and you want to downgrade to a subscription that costs $200. If your billing cycle ends on 30 April and you change your subscription on 27 April, you'll have 3 days of your current subscription that haven't been used. In this case, your subscription will be prorated and the $30 from your first subscription will be put towards the new one, meaning on the 27th you'll only be charged $170. The next month, you would pay the regular fee of $200.
Caution: Please note that this example was given for clarity and the platform officially will prorate unused subscriptions by the total number of hours, and not by day.
I Can't Downgrade My Account
This could be because you are not meeting the two criteria listed above. Another reason could be that you have already reached the limit of two upgrades/downgrades per month. If this is the case, you'll have to wait until the last 5 days of the next month to make this change.
For more troubleshooting, please check out our article, Why Can't I Upgrade/Downgrade?
More Options
If you feel you're not getting the most out of your Influencity subscription, we also offer the option to customize your own Influencity bundle. This way, you only pay for the products you want to use.
Start creating your own bundle from our pricing page or reach out to sales@influencity.com for advice on offers, prices and products.