If you loved your 7-day free trial, keep reading to find out how to upgrade to an Influencity subscription.
We invite anyone interested in improving their influencer marketing strategy to try out Influencity to see how we can help you find, analyze and track the performance of your influencers.
How Do I Upgrade From a Trial to a Paid Subscription?
You can upgrade anytime during your trial by clicking this button on the top of your screen. This will bring you directly to the Influencity pricing page where you can pick the product that best suits your needs.

How Do I Know What Subscription is Right for Me?
At Influencity, we offer products that suit the needs and budgets of companies big and small. In addition, we streamline the process by allowing customers to customize and purchase their subscriptions on one easy-to-use page. To help you through this process, here are some resources to help you understand the products offered on our pricing page:
Plans | Frequently Asked Questions
Questions About Influencity Subscriptions
If I Don't Use or Like the Product, Can I Get a Refund?
No, unfortunately, Influencity does not offer refunds. We try to be as transparent as possible during the trial and onboarding process so that customers have clear expectations for the product. In addition, we provide plenty of resources to help customers take full advantage of the platform. For more information on this, please see the Influencity Refund Policy.
What Payment Information Do I Need?
In order to upgrade, you'll need to give the following information:
Your full name (as it appears on your method of payment).
Your credit card number, expiration date and CVC (if paying by card).
Your IBAN number (if paying by bank transfer).
Note: The CVC is the 3-digit number that appears on the back of your credit card.
Influencity is only allowed to store your billing information (name, mode of payment). Your payment details are processed by a secure third party and are never stored in the Influencity platform. For more information on how Influencity keeps your payment information secure, please see here.
Will My Data Transfer Automatically?
Yes, if you upgrade within the 7-day trial period, any saved profiles, lists, campaigns and reports that you created in your trial will still be associated with your account so you can transition seamlessly to your paid plan.
Can I Keep My Remaining Analyses?
No, when you start your trial, you are automatically given 30 monthly results and 3 monthly analyses. These do not roll over to your paid subscription when you upgrade, however, you will have all the results, analyses, lists, and more that are included in the product that you purchased.
When Will I Be Charged?
Your billing cycle starts the day you make the upgrade, so the first payment will be made on this day. In order to provide you with uninterrupted service, we will continue to charge you your subscription each month until you change your subscription or request to cancel or delete your account.
How Can I Cancel My Subscription?
Influencity makes it easy to cancel your subscription at any time. This can be done from your profile under the section Products & Billing.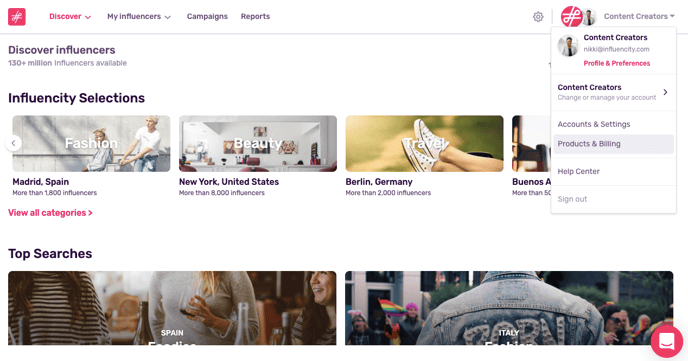 Note: You can cancel your subscription at any point during the month and still use your Influencity account until the end of your billing cycle.