Customize your Influencity subscription to meet your needs and budget by creating a Bundle.
At Influencity, we want to make our service available to companies both large and small, and one way we do this is by offering customized Bundles. For information on all our products and prices, check out our article on understanding Influencity pricing.
What Is a Bundle?
A Bundle is a subscription that you design yourself. Pick and choose the Influencity products that best suit your needs and customize the number of monthly results, monthly analyses, and social media networks included in your plan.
How Can I Create a Bundle?
Follow these steps to create your custom subscription:
Go to the Influencity pricing page.
Click on the Create your own Bundle tab up top or on View bundles on the left.
Select the products and features you wish to include.
Discover

Discover is the Influencity database with over 170 million influencers. This is where you can set filters and view the preliminary stats of influencers on Instagram, TikTok, and YouTube.
Choose between a Basic package, for searches on 1 social media network, or the Pro, which includes all 3.
In our sample Bundle, we've selected the Pro product. By default, Pro plan includes 3,000 monthly results – these are the profiles that appear in your search results.
To include more monthly results in your bundle, drag your cursor over the line to adjust the amount. As we want to "discover" more profiles each month, we've increased the number of monthly results to 4,000 (as seen in the box on the right). The price for 1,000 additional results starts at $5/month.
To see the full breakdown of this product, click See all features. To see the price for additional monthly results, click More Details.
Below is a sample of a search you may run in the Discover product. The filters set are displayed along the top and some basic stats are included in each column.
Monthly Results:

The number of profiles you can "discover" each month. These are the 20 profiles that appear on each page of your search results. For each page you view, 20 monthly results will be deducted. Next to each profile, you can see 3 complementary metrics: number of followers, average interactions (likes, comments, etc.), and engagement. Other columns may appear depending on the filters applied. To see an influencer's full metrics, such as their email and follower quality, you'll need to include the IRM & Data product described in the next section.
IRM & Data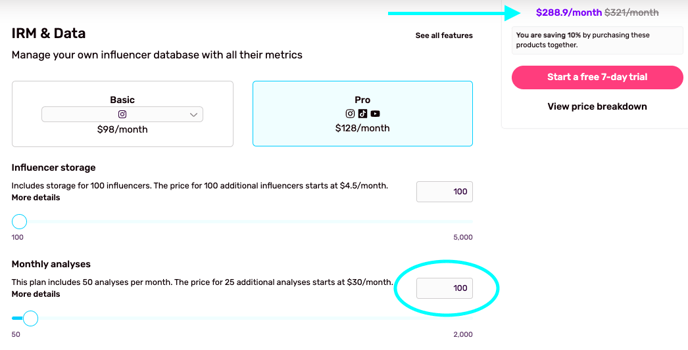 Influencity's IRM – or Influencer Relationship Management tool – lets you create and manage your own database of influencers.
By default, the Pro product allows you to save 100 profiles to your IRM. Like a contact in your smartphone, you can add additional contact details and notes to keep all of your info in one place. In addition, you can integrate your email and contact these influencers directly from the Influencity platform.
In our sample Bundle, we've chosen the Pro product which provides 50 monthly analyses by default. However, as we want to analyze more profiles in order to see their email addresses, profile evolution, audience demographics, and more, we've dragged the cursor up to 100. The price for 25 additional analyses starts at $30/month.
Below is an example of what you would see when you analyze an influencer and add them to the IRM product.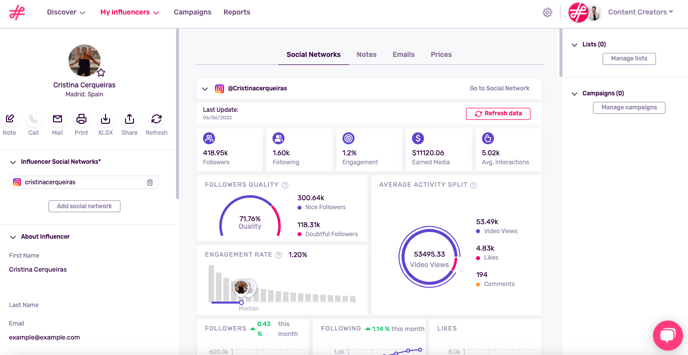 The Basic and Pro products also let you create a list to organize a group of influencers, view their aggregate metrics, and see the percentage of follower overlap.

Monthly Analyses:

The number of influencer profiles or lists you can analyze per month. When you analyze a profile, you are able to view detailed metrics such as an influencer's contact email, follower quality, Earned Media Value (EMV), brand affinity, and much more. Analyses are deducted when you analyze a new profile, refresh the metrics of an existing profile, or analyze the follower overlap of a list.
Campaigns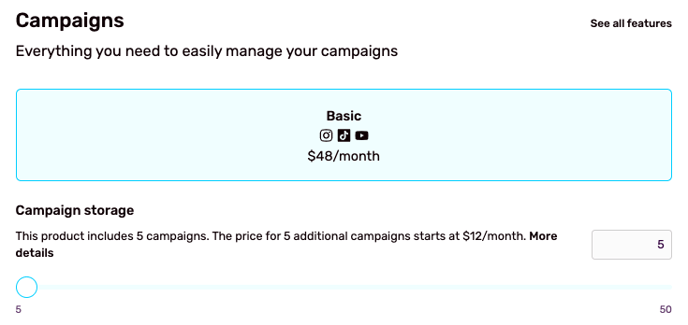 Select the Campaigns product if you wish to customize your workflow and manage it within the Influencity platform. Like the popular list-making application Trello, Campaigns is a way to visually represent the various steps of your marketing campaign and move influencers along as they complete each step.
The Basic Campaigns product allows you to run 5 campaigns at the same time. You can add more by running your cursor along the line.
Tip: Campaigns can be reused from year to year. For example, data from a Spring 2021 workflow can be cleared and the same campaign can be used for 2022.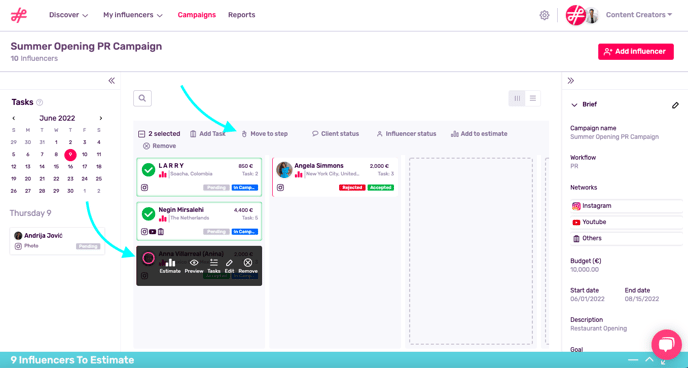 Note: Influencers are not notified when they are included in campaigns or assigned tasks. To facilitate communication, you can integrate your email to the IRM.
Reports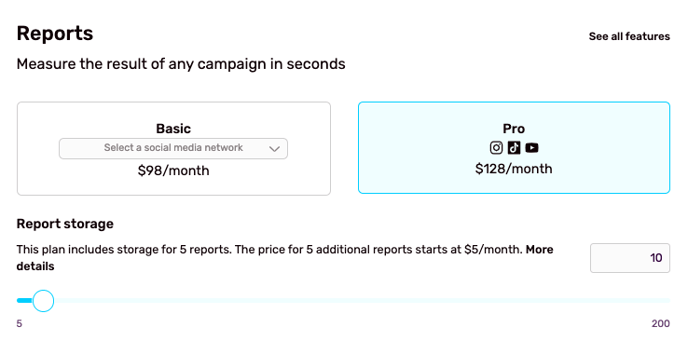 Reports measure the results of your campaigns. Add publications to a report to track how many users interacted with your posts, calculate the Earned Media Value (EMV) of your publications, view the demographics of the audience you reached, and keep track of the cost breakdown.
A Pro plan comes with 5 reports. As we want more, we've dragged our cursor along the line. The total number of reports can be seen in the box on the right.
Here's a sample of what you would see when using the Reports product. Data is gathered and organized into main KPIs, interactions, audience distribution, costs, and much more.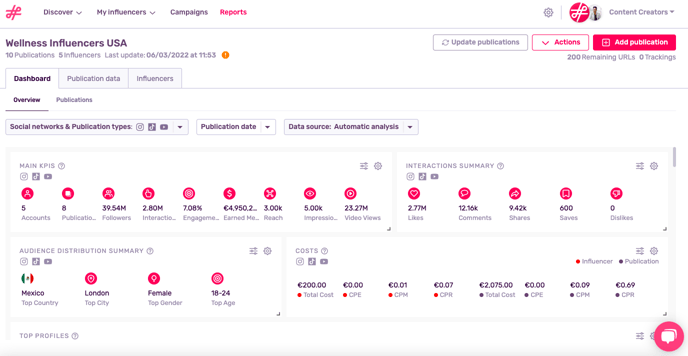 How Does the Pricing Work?
The Basic and Pro bundle products have a set price that includes a certain number of monthly results, monthly analyses, saved influencer profiles, campaigns, and reports by default. To add more, simply click and drag your cursor along the line. You can also include Add-ons such as the option to export data to XLSX or share it as a PDF or URL link.
For more details on pricing, please see our article on what raises the price of a bundle and our Plans | FAQs.
Can I Purchase an Annual Bundle?
No, Bundles are sold on a monthly subscription basis. If you're interested in purchasing a long-term bundle plan, please contact sales@influencity.com.