Learn how to adjust your account to better suit your needs.
Where Do I Find My Account Information?
Links to all the information related to your account can be found in the upper right-hand corner of the screen. If you click on your profile picture, a dropdown menu will appear. Here, click on Profile & Preferences.
In the image below, you can see the options that you have on this page. From the section Your Preferences under Basic info you can:
Enter your name and phone number.
Upload a profile picture.
Update your job position.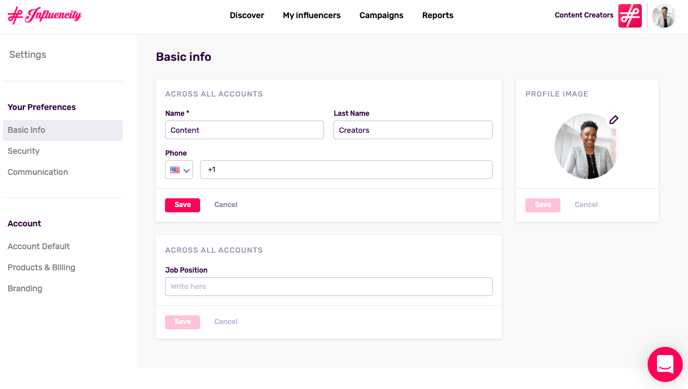 All this contact information is internal – only you can see it. If you contact an influencer they will only see the email that you integrated into the platform.
If you add additional users to your brand account, they will have a unique login and profile.
Note: Each user has their own Your Preferences section that only they can view and edit.
Security
In this section you can change your password and view any logins from new browsers or devices. If there's any activity you don't recognize, we recommend updating your password. Read more about how to protect your account here.
Communication
This is where you can integrate your email to facilitate communication with influencers. Here you can use the same email address you use to log in or a different one. If you choose to contact influencers through our platform, all messages will appear as normal emails; influencers will not see that you are writing to them from the Influencity platform.
Account
This is where you can add information about your brand and consult the details of your paid subscription.
Note: All users on a brand account can view and edit information in the Account section.
Account Default
Add your brand name and any information about your company.
Products & Billing
You can see the products you're subscribed to and your account balance here. If you scroll down, you'll see the option to add more results and analyses on a one-off basis, without upgrading to a different plan.
This section is also where you can view your billing information, transactions and payment methods. If you wish to update your payment method, you can do so here. For more details about this section, take a look at our billing and payment FAQs.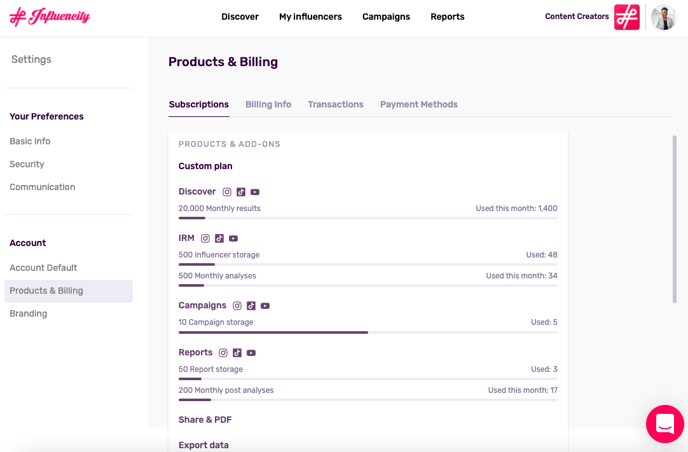 Branding
Upload your company logo here. This will be visible to other users associated with your brand, but not to the influencers.